Staff
AMRRIC is comprised of a small team of skilled staff who are funded by the Australian Federal and Northern Territory governments. Our dedicated team support AMRRIC's efforts in every sense and are committed to creating an authentic difference to the Indigenous communities we serve.
Staff
AMRRIC is comprised of a small team of skilled staff who are variously funded by the Australian Government and philanthropic support. Our dedicated team have a broad range of professional experience, allowing AMRRIC to support the diversity of remote Aboriginal and Torres Strait Islander communities' needs around companion animal health and management, and in turn community health and wellbeing.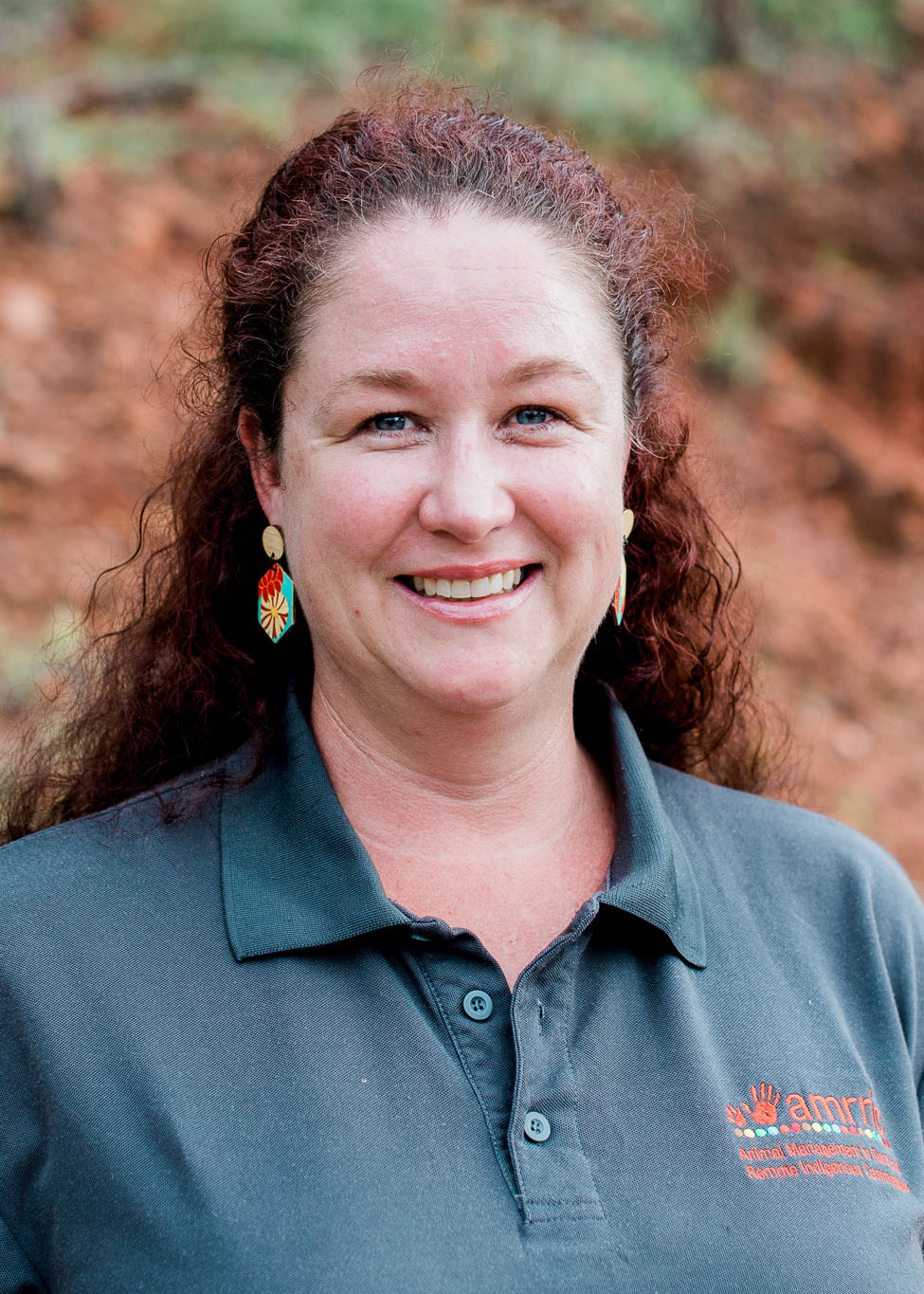 Dr Brooke Rankmore
CHIEF EXECUTIVE OFFICER
With a passion for rural and remote Australia, Brooke has lived and worked in the Northern Territory for 20 years, including 5 years living remotely on a cattle station and later on Groote Eylandt. Brooke has a Bachelor of Science with Honours, a Doctor of Philosophy and extensive experience in the conservation and natural resources management sectors across the Top End.
Brooke has a diversity of experience across a wide range of sectors including territory and local government, private enterprise and not-for-profit. Brooke is a graduate of the Australian Rural Leadership Program and among other roles, has held positions with Regional Development Australia (Northern Territory), Greening Australia and City of Darwin where she oversaw the Council's regulation of animal management through by-laws and responsible pet ownership education.
Brooke is Vice President of the Australian Institute of Animal Management and Vice President of Bereaved Parent Support NT/Sids and Kids NT, and has formerly held positions on the boards of Territory Natural Resource Management and NT Farmers. Brooke commenced with AMRRIC in February 2018, and is proud to lead the organisation, working with the board, staff, partners and communities to improve service delivery and education for companion animals.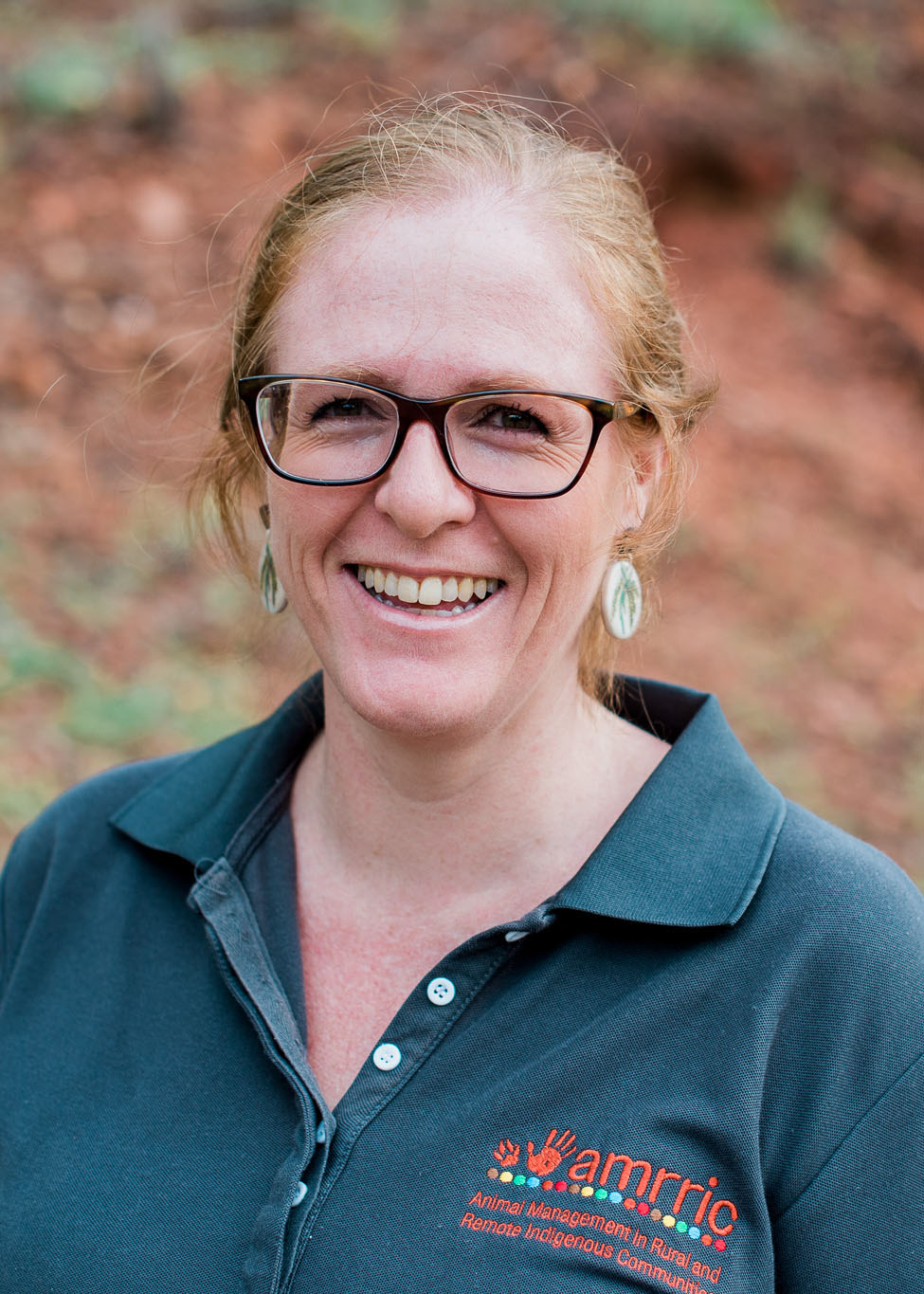 Lauren Shaw
GENERAL MANAGER
Lauren joined AMRRIC in January 2019, bringing with her a strong background in accounting, business systems and operational management. She has worked for twenty years in financial and operational management roles with engagement across many different industries within the private, commercial and not-for-profit sectors. Her key experiences cover tax and financial accounting, systems setup, development of reporting systems for project and cost centres, and operational management of HR, WH&S, projects, and financial reporting.
Lauren moved to Darwin in 2009 from Adelaide, chasing a warmer climate, new experiences and opportunities to learn and meet new people in a new city. Having recently worked in the environment not-for-profit sector working across community, volunteer and pathway education programs, Lauren is very excited to be working with AMRRIC to utilise her knowledge and work with a team of respected and passionate people.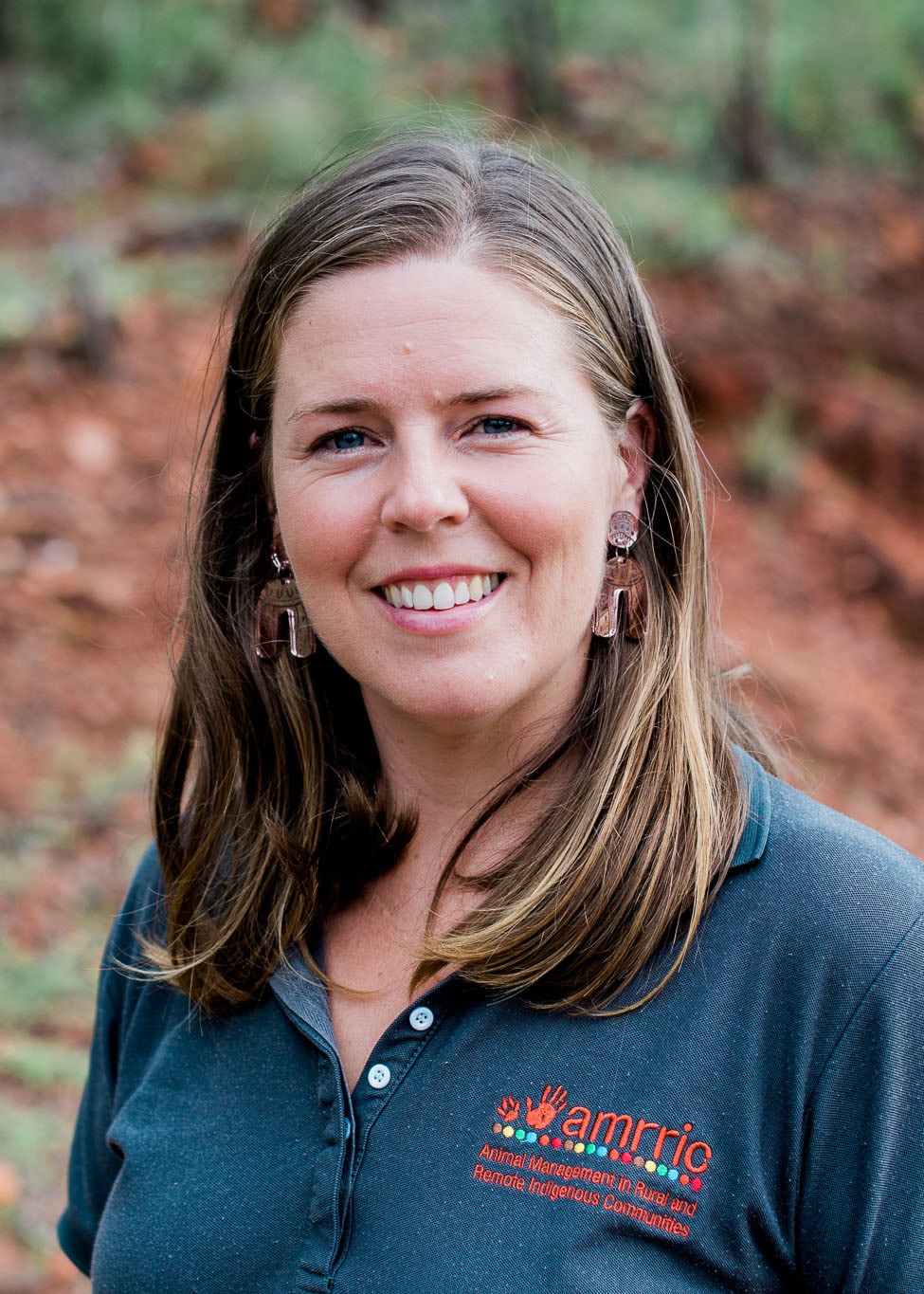 Dr Bonny Cumming
PROGRAM MANAGER – STRATEGIC DELIVERY
Bonny joined the AMRRIC team in October 2013 having been a strong supporter since volunteering on an AMRRIC dog health program in Kintore in 2008.
Bonny has a keen interest in One Health principles, combining community development, animal health and welfare and conservation to improve animal, human and ecosystem health. She is a veterinarian, has a Masters in Veterinary Conservation Medicine, and has worked in private veterinary practice, animal shelters, zoos and wildlife hospitals.
Bonny thoroughly enjoys getting out into the field and has been fortunate to use her degree to travel widely, working in remote locations with a variety of species amid various cultures. Bonny feels extremely privileged to work for AMRRIC, utilsing her veterinary training for 'big picture' issues with vast reach.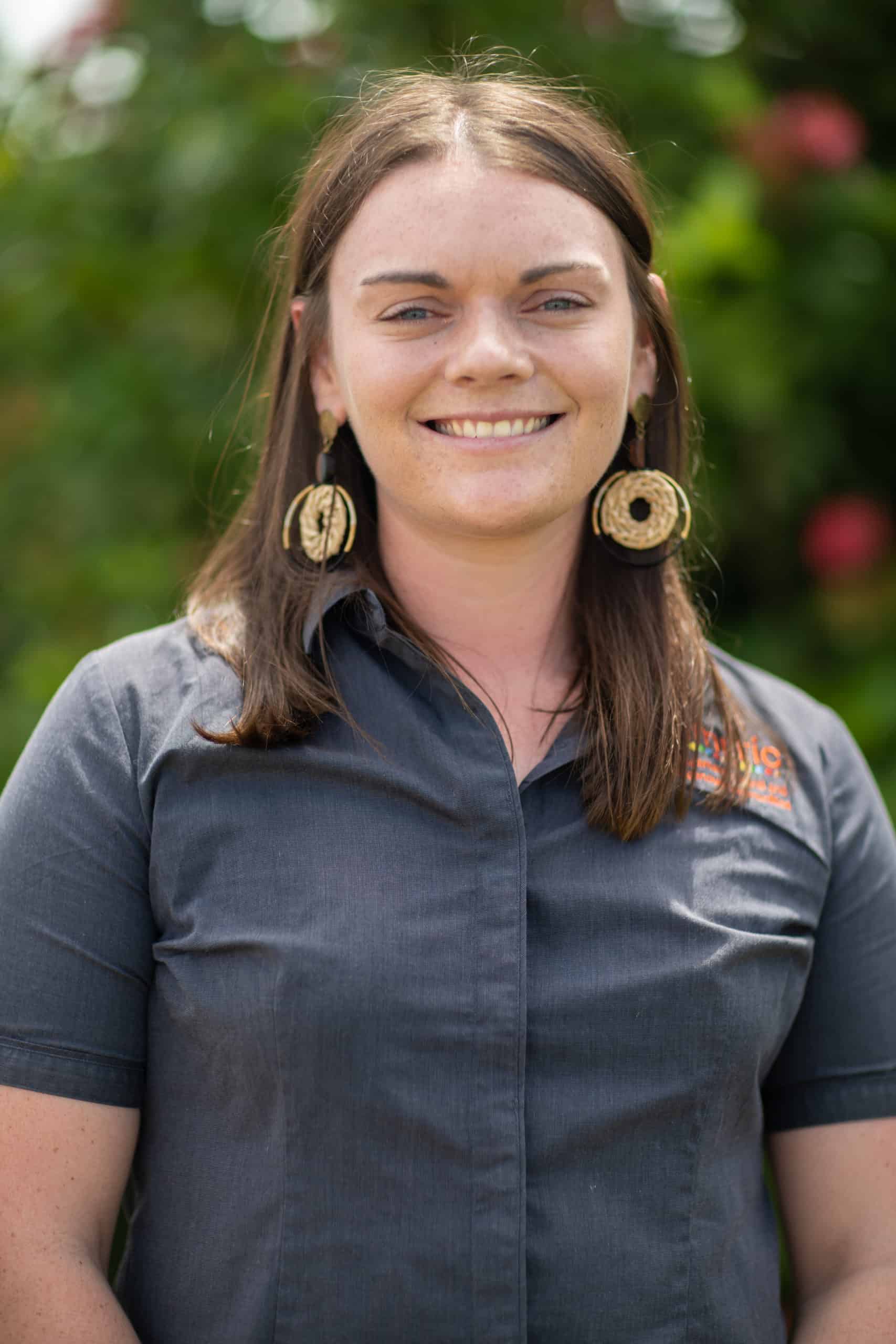 Dr Chelsea Smart
PROGRAM MANAGER – OPERATIONAL DELIVERY
Chelsea is a veterinarian who has worked in private practice in rural South Australia and has volunteered as part of local council animal management initiatives throughout Adelaide.
She became familiar with AMRRIC when investigating ways to aid animal management in her local indigenous community of Point Pearce on the Yorke Peninsula, South Australia (Narungga country). These conversations sparked an interest in remote community work and encouraged Chelsea to volunteer as a veterinarian with AMRRIC in the Anangu Pitjantjatjara Yankunytjatjara (APY) Lands, South Australia.
While Chelsea has a love for animals, she finds the most rewarding part of veterinary work is communication and problem solving with animal owners and promoting animal health and welfare throughout the wider community. Chelsea is also passionate about human mental health, she has undertaken additional training in compassion fatigue and is an accredited Mental Health First Aid officer. She feels these skills can be utilised to understand and support the human-animal bond which is integral to animal ownership in remote communities and otherwise in our society.
Chelsea has geriatric pet Green Tree Frog of 18 years of age and her favourite Australian native animal is the Wombat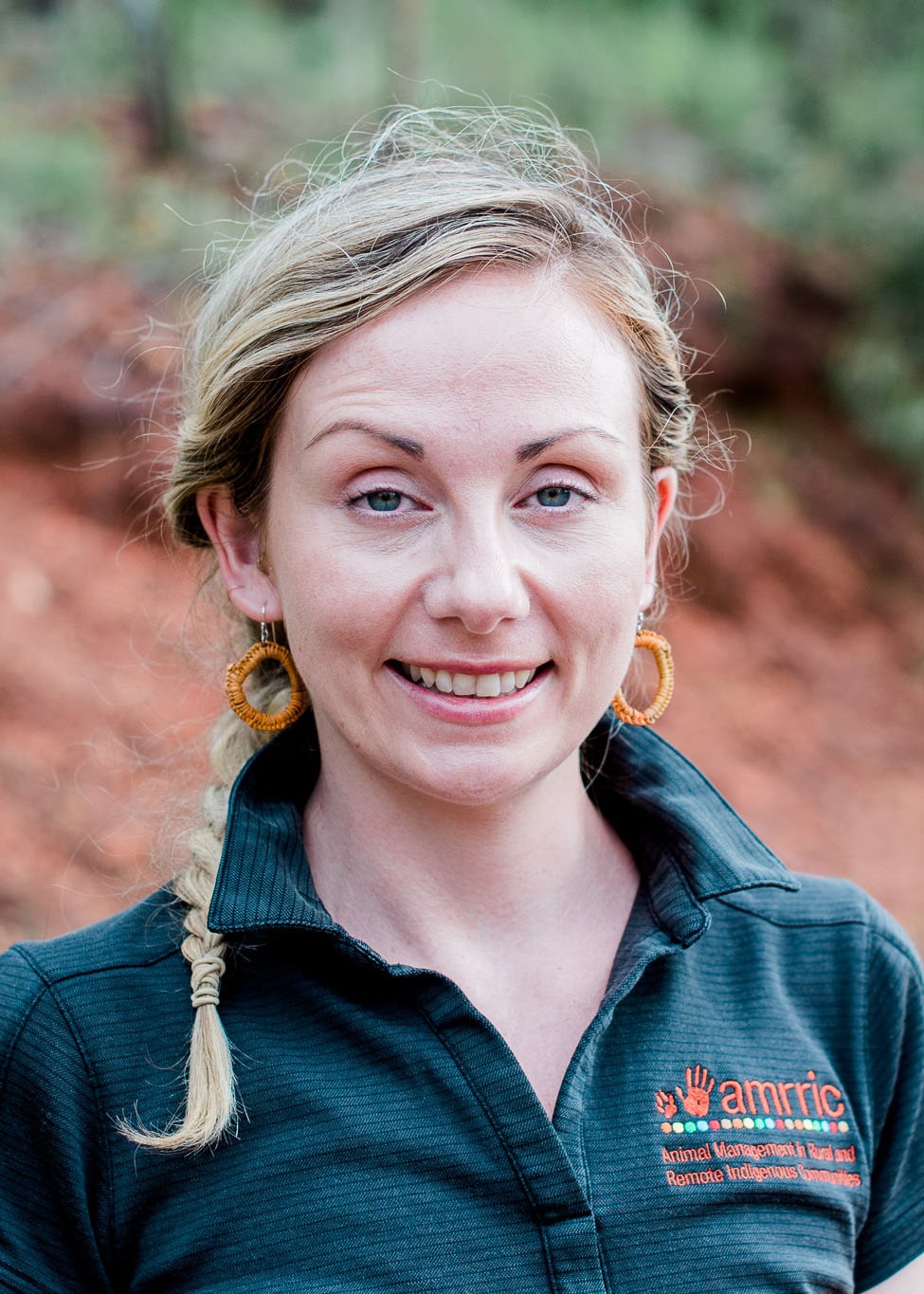 Katrina Doody
PROJECT OFFICER
Katrina joined the AMRRIC team in March 2020, with a Diploma in Veterinary Nursing from University College Dublin, she comes to us with over 15 years' experience within the animal care industry. Originally from Ireland, Katrina has lived in Australia for over 11 years, working within varied private practice, specialist centre and equine care settings, always with a passion for client education, while providing high quality services and outcomes for animals and their families.
During six years of enjoying life in outback Mount Isa, Katrina feels privileged to have been involved in veterinary service programs delivered within the remote Indigenous communities of Doomadgee and Mornington Island in North West Queensland. These experiences have led her to develop a strong interest in holistic, sustainable and community led approaches to animal management, education and community services within remote communities.
Katrina is passionate about continuing to develop her knowledge and learning through her role with AMRRIC and is hugely grateful for the opportunity to travel incredible Country and meet and work alongside so many wonderful people, from all walks of life through AMRRIC's work within First Nations communities throughout Australia.
Michael Spry
COMMUNITY TRAINING AND EDUCATION MANAGER
After a long history of externally collaborating with AMRRIC, Michael joined the team in 2022. His previous roles include working as a lecturer teaching Indigenous Environmental Health at Batchelor Institute of Indigenous Tertiary Education, an Environmental Health Officer with the Department of Health in the Northern Territory and the Manager of the Environmental health Worker Program for Miwatj Health Aboriginal Corporation. He has a Bachelor of Applied Science in Environmental health and a graduate certificate in Management.
Through his father's side, Michael is from the Marrunungu language group which is part of the Brinkin group of tribes located on the Finniss and Daly River's in the NT. Michael's grandparents on his mothers side migrated from England to Tasmania after World War II where the family set up a upholstery and woodworking business to survive. His father was part of the stolen generation so the journey of reconnecting with the tradition lands, history and language has played a big part in him finding a balance between the two worlds. Fishing, hunting, music and sport, as well as getting back to country are a big part of family life for Michael.
Michael identifies adequate housing, employment options and programs that increase local capacity as integral building blocks to improving health and wellbeing, with environmental health being central to good outcomes.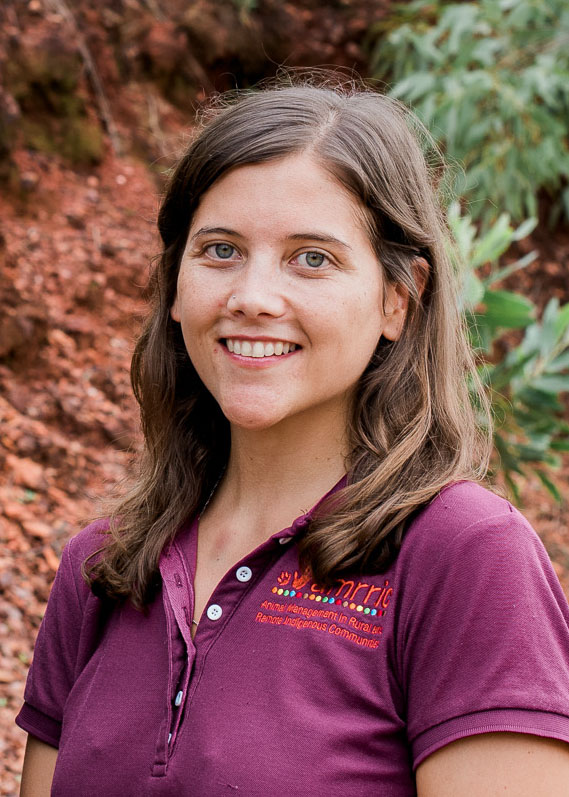 Michelle Hayes
EDUCATION OFFICER
Michelle joined AMRRIC in September 2020.
She has an Associate Degree in Veterinary Nursing and a Bachelor of Arts majoring in Sociology and Languages from University of Queensland.
She has worked and volunteered for past 10 years as a Veterinary Nurse in both Australia and abroad, with a focus on working in underserved communities. She has volunteered in the past with AMRRIC, visiting remote communities in the NT on several trips since 2014, including the Lajamanu, Ti Tree, and Utopia regions.
Over the past couple of years she has worked as a bilingual teacher and literacy educator in Spain and Morocco. She has also spent time over the years writing and delivering animal health education programs and participating in veterinary programs in India, Morocco, Bahrain and Thailand.
Michelle is a big advocate for the One Health approach to animal management, for ensuring greater outcomes and welfare for human, animal and environmental health. She believes education is integral to achieving success when tackling any issue and thoroughly enjoys getting out into field work.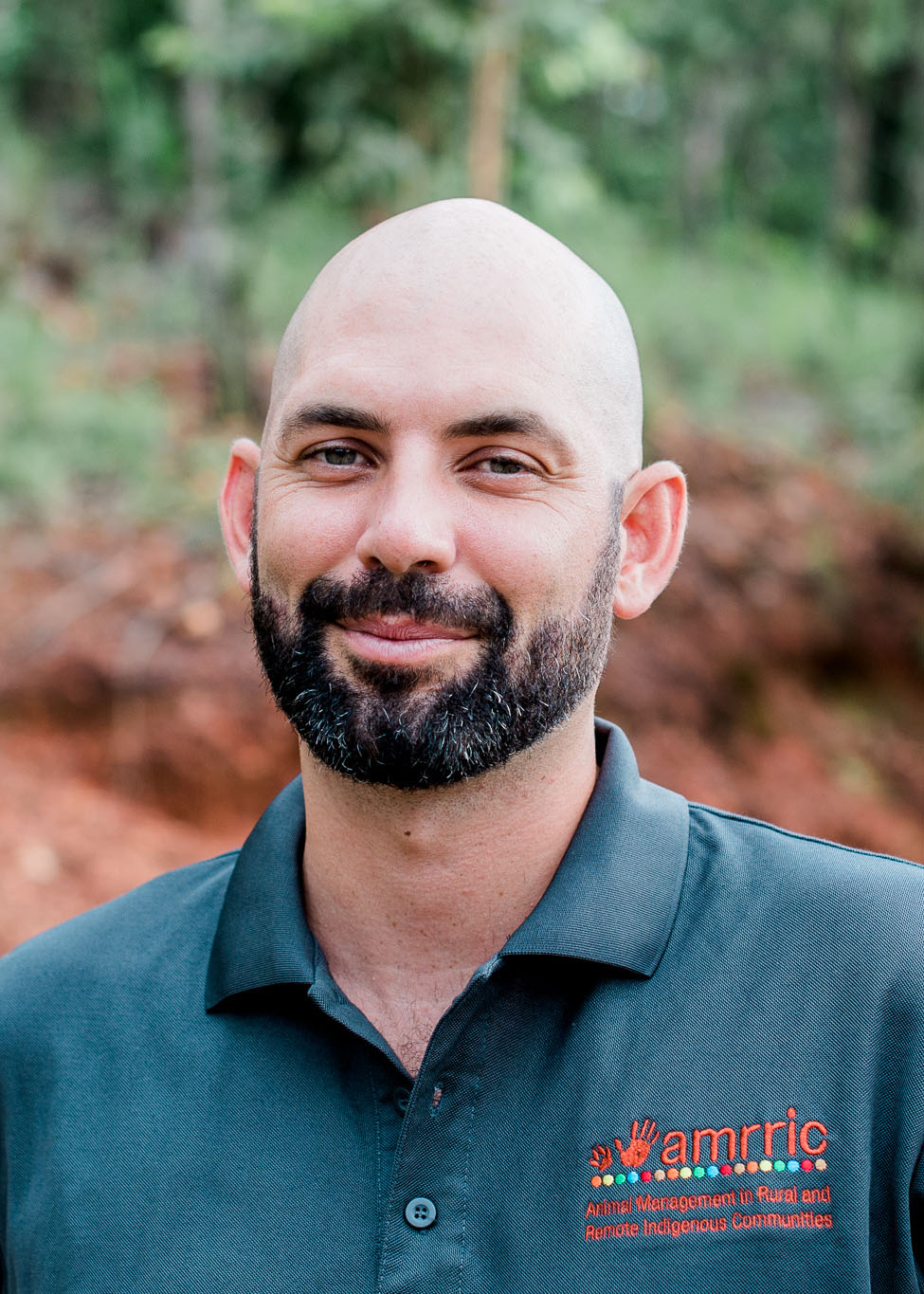 Jory Stariwat
BIOSECURITY PROJECT MANAGER
Jory joined AMRRIC in January 2022.  Having worked across the tropical savanna of Northern Australia, the desert of Central Australia, and the subarctic of Alaska, Jory brings a diverse background in environmental management with a strong focus on collaboration and empowerment of remote Indigenous communities.  He holds a Bachelors and Masters degree in Anthropology with a specialisation in natural resource management.
Jory has worked for Indigenous organisations, government, and the consulting sector in the United States, Canada, and Australia.  His work has ranged from conducting quantitative harvest assessments of wild foods for sustainable fisheries and wildlife management to on-ground habitat protection and restoration through fire management, wetlands rehabilitation, pest eradication, and biosecurity surveillance. Based in Cairns but originally from Alaska, he has called Australia home since 2014 after completing a trans-oceanic sailboat crossing through the Polynesian and Melanesian islands of the vast South Pacific.
Jory has extensive experience establishing co-managed environmental projects that couple the unique intellectual traditions and practices of Indigenous peoples with scientific methodologies to better understand, protect, and manage the natural systems on which we depend.  He is a strong advocate of two-way learning and ensuring projects are co-designed from the start with clear and direct benefits for the communities in which he works.
Tida Nou
SCIENCE COMMUNICATIONS OFFICER
Tida joined AMRRIC in March 2022. She is a conservation scientist with an interest in improving the integration of research into planning, policy and practice; working in partnership with Indigenous communities in ways that combine Indigenous knowledge systems and western science, and the effective communication of science tailored to different stakeholder needs.
She has worked on a broad range of environmental programs and projects across multiple sectors. She is currently based in Brisbane, and her most recent work focused on cat impacts and management, arid zone wildlife and biodiversity offsetting. Tida has Cambodian heritage and travels there whenever she can. Tida is excited to be working with AMRRIC towards improved and enduring outcomes for both nature and people.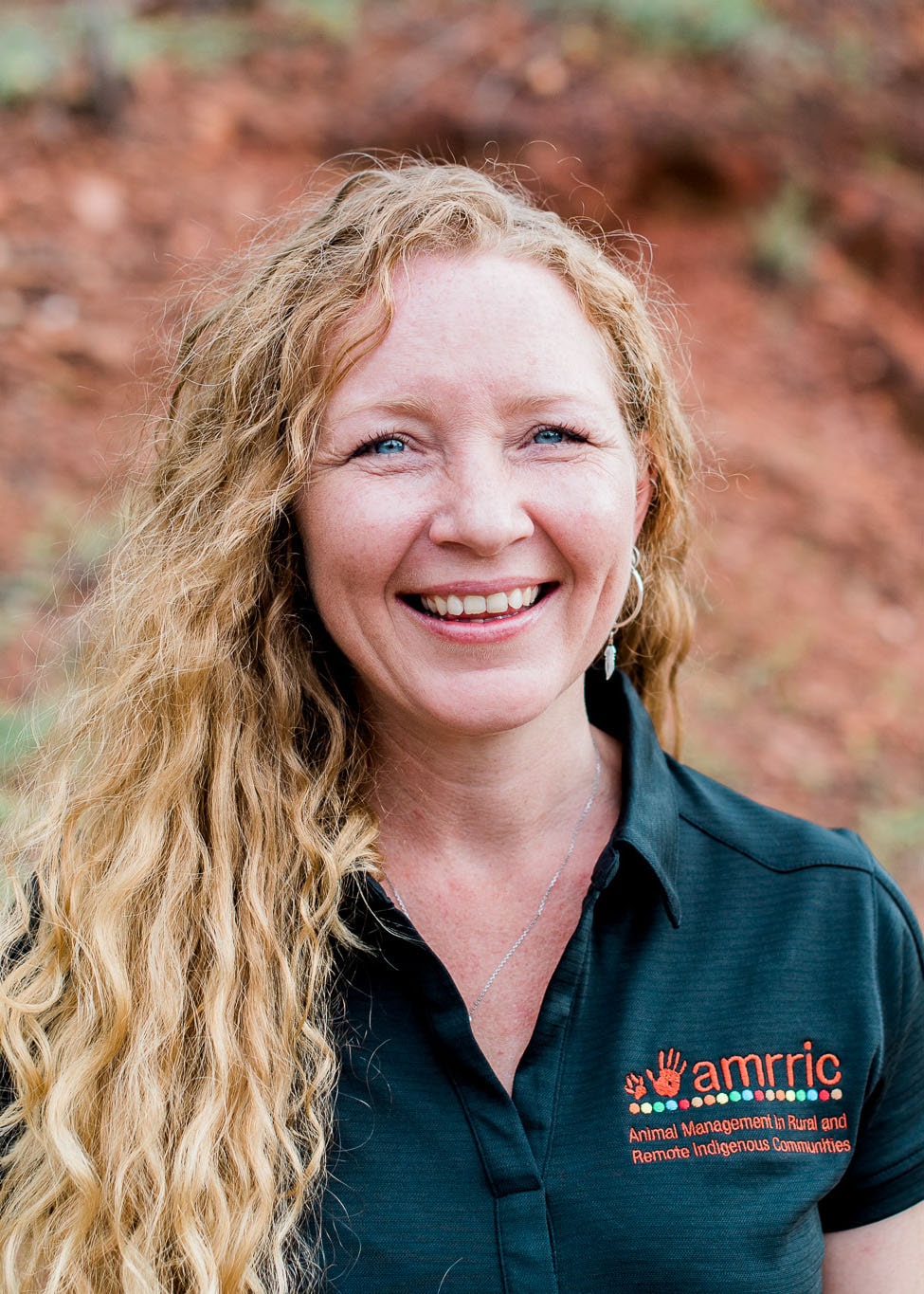 Rebecca Ing
OFFICE MANAGER
Rebecca joined our team in November 2021. She has a Bachelor's degree in Commercial Photography: Scientific from R.M.I.T and a Diploma of Fine Art from Swinburne University and has been living in rural Darwin for 10 years.  While her formal education has nourished her creativity and analytical thinking, her working career brings us over 20 years of experience in customer service in both the hospitality and tourism industries.  Building lasting and meaningful connections within the different communities that she served was always the most rewarding aspect of her work.  With the advent of Covid-19 and the changes it has brought to our world and her industries, it was time to put her skills to work elsewhere.  She is fascinated by the power of human connection and the difference that feeling like you are part of something meaningful can make and is thrilled to be part of the AMRRIC family.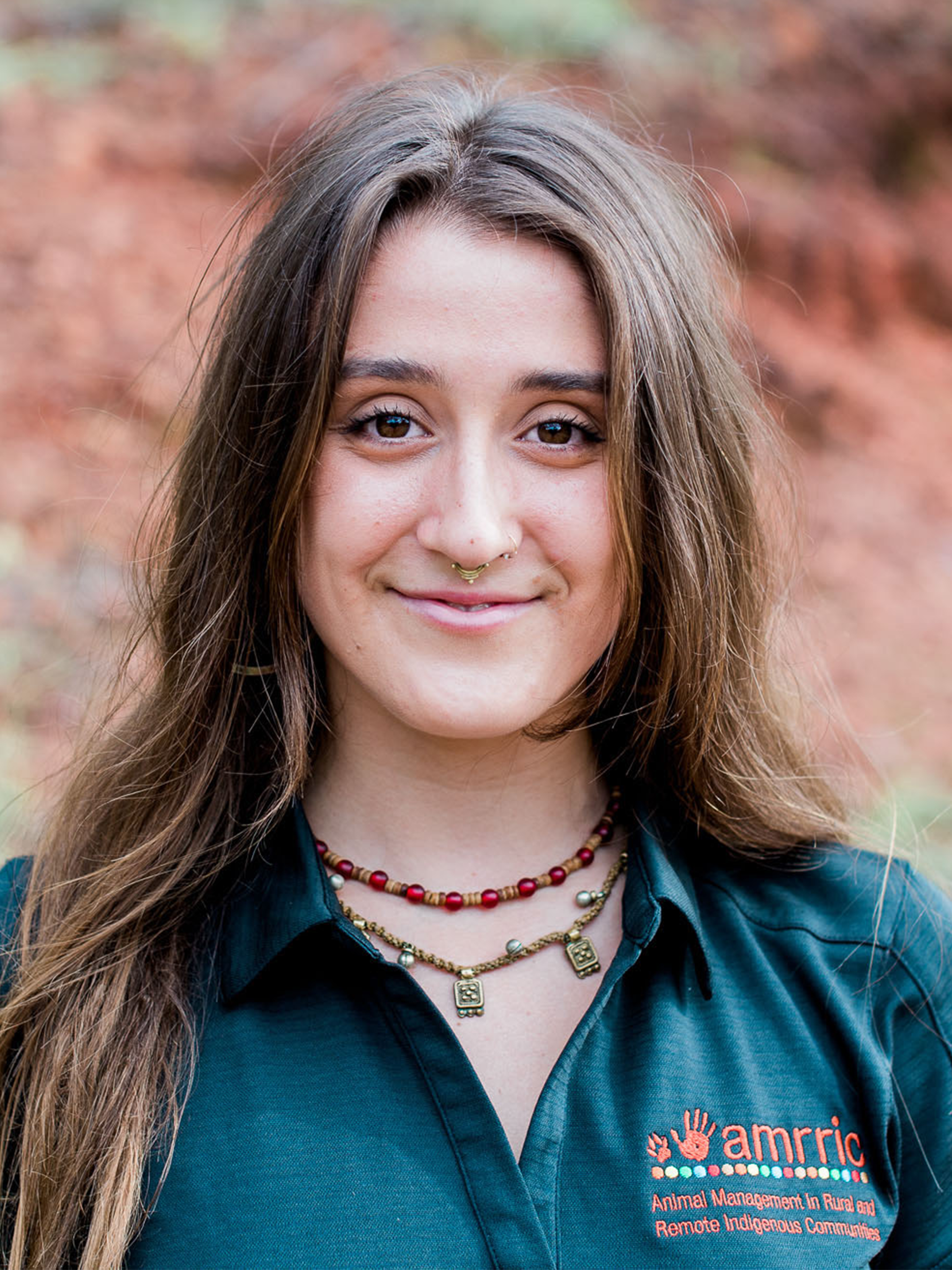 Victoria Fernandez
COMMUNICATIONS & MARKETING OFFICER
Victoria joined the AMRRIC team in August 2021; with a passion to use her skills in design and communications for change. She has a Bachelors Degree in Creative Intelligence & Innovation, and is currently studying Visual Communications at University of Technology Sydney.
Originally from Spain, Victoria has lived in 4 countries and is now based in Sydney. Her love for travel is deeply rooted in appreciation for culture and connection, having spent time learning from communities in India and Egypt. Victoria is eager to continue fostering meaningful relationships and expanding her worldview through work in the not-for-profit space. Having worked as a freelance graphic designer and social media manager, Victoria is excited to immerse herself in AMRRIC's cause and continue creating ways to share our vision with others.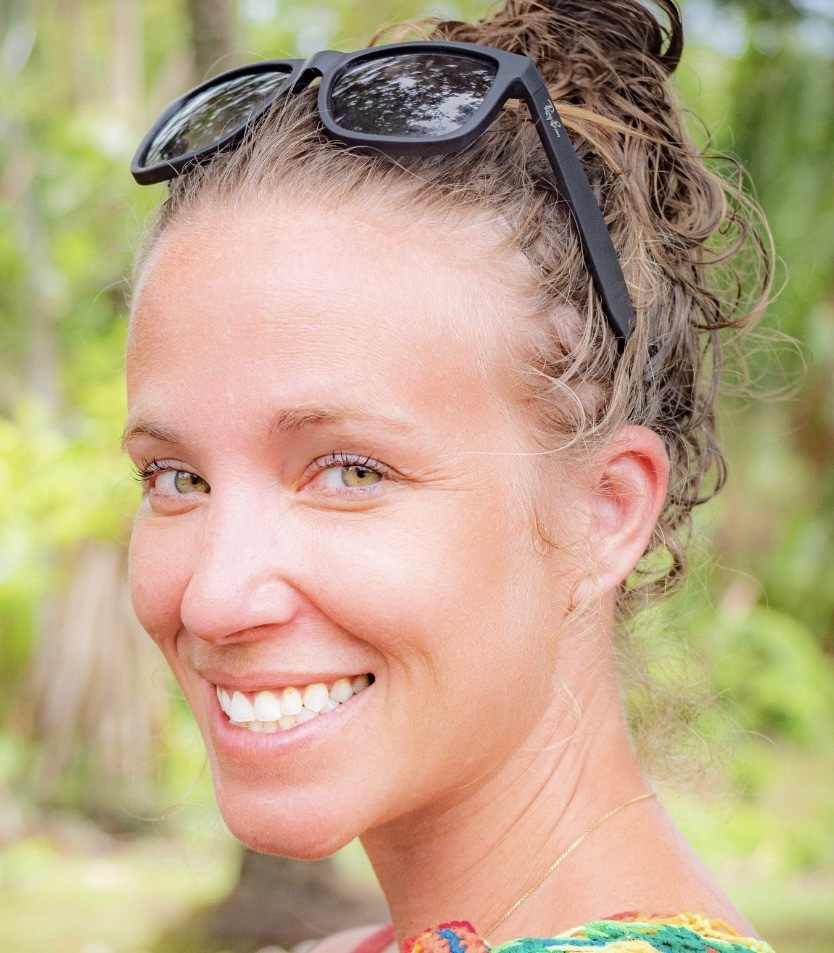 Dr Jessica Hoopes
ONE HEALTH RESEARCH COORDINATOR
Jessica joined the AMRRIC team in March 2022. Originally from Canada, Jessica has a Doctor of Veterinary Medicine from the University of Saskatchewan. She has had a passion for animals from a young age and started volunteering with stray and feral cat management programs when she was a teenager. Over the course of her career, she has gained exposure to the many facets of veterinary medicine and animal management, with almost 20 years of work and volunteer experience in the field.
Jessica has a love for travel and a passion for meaningful cultural experiences, which brought her to the South Pacific. For the past 6 years, Jessica has been involved in the veterinary medicine, animal welfare and animal management fields in Fiji and Papua New Guinea focusing on the development of community-focused humane dog population management programs. Understanding that human and animal health outcomes are often linked, Jessica has come to understand the importance of addressing animal management issues from a wholistic One Health – One Welfare perspective to improve the welfare of humans and animals in communities.  She enjoys working with communities focusing on grass-roots collaborations to help to develop effective animal management programs. She is excited to be a part of AMRRIC as an organization whose mission and vision mirrors her personal and professional values.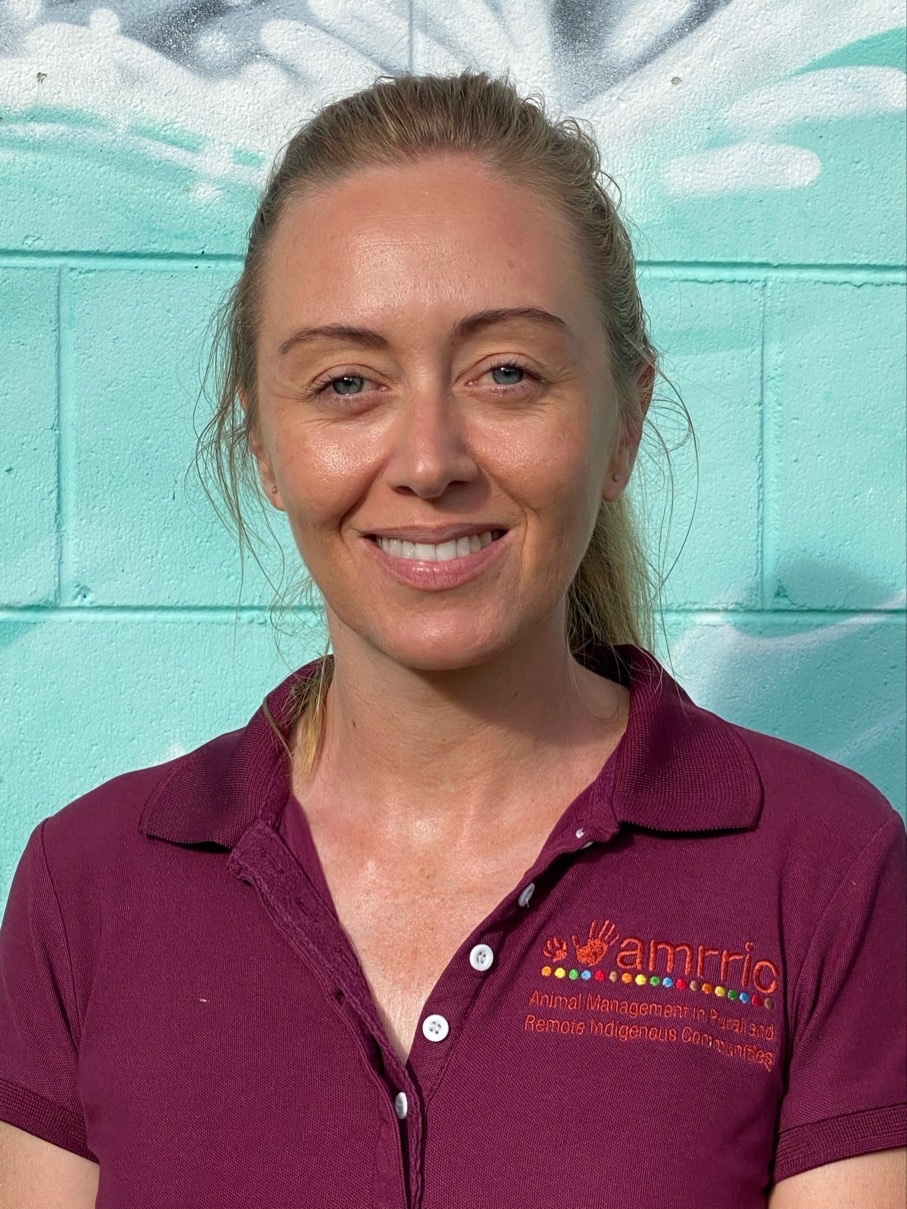 Helen Bigmore
QLD PROJECT OFFICER
Helen joined AMRRIC in March 2022. She has a Batchelor's Degree in Communications and is an experienced Registered Veterinary Nurse from the UK. Living in a remote Indigenous community in Cape York for the last 10 years, Helen has worked alongside Animal Management Officers, to provide efficient and effective Veterinary programmes with lasting results.
Helen has worked with a number of Queensland based Vets, whilst building her own business, providing essential Veterinary services to numerous remote Cape York communities. These include Wujal Wujal, Lockhart River, Coen, Laura, Aurukun, Kowanyama, Northern Peninsula Area and Torres Strait Islands. Establishing connections with people through their animals is something that Helen finds extremely rewarding. She is a strong advocate for the One Health approach and providing consistent, high-quality services to every animal owner.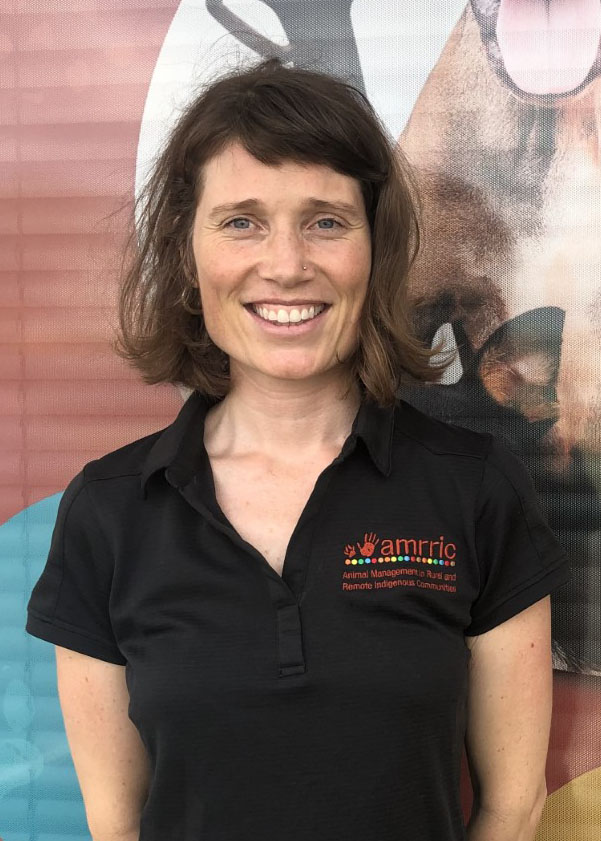 Dr Sophie Parratt
PROGRAM MANAGER – OPERATIONAL DELIVERY
Sophie joined AMRRIC in March 2022. She is a veterinarian whose passion for veterinary practice in rural and remote communities first sparked during university days. It initially led her to private practice in the Northern Territory and then across the globe volunteering on a veterinary program in India.
These experiences intensified Sophie's interest in the 'big picture' strategy. In particular, the One Health approach which acknowledges the relationship between animal health and welfare, community wellbeing and environment conservation. She is also currently undertaking a Master of Public Health part-time.
For the last three years Sophie has worked for the Society for the Protection of Animals Abroad (SPANA) supporting a range of programs in Africa, India, the Middle East, Southeast Asia, and South America. This time solidified to Sophie the necessity of working closely with local groups and leaders to build projects that are directed and supported by communities.
Despite her love of global travel, Sophie is delighted to be back in Northern Territory. She is thrilled to have the opportunity to join AMRRIC and to support holistic, collaborative projects that deliver enduring human and animal health benefits for communities.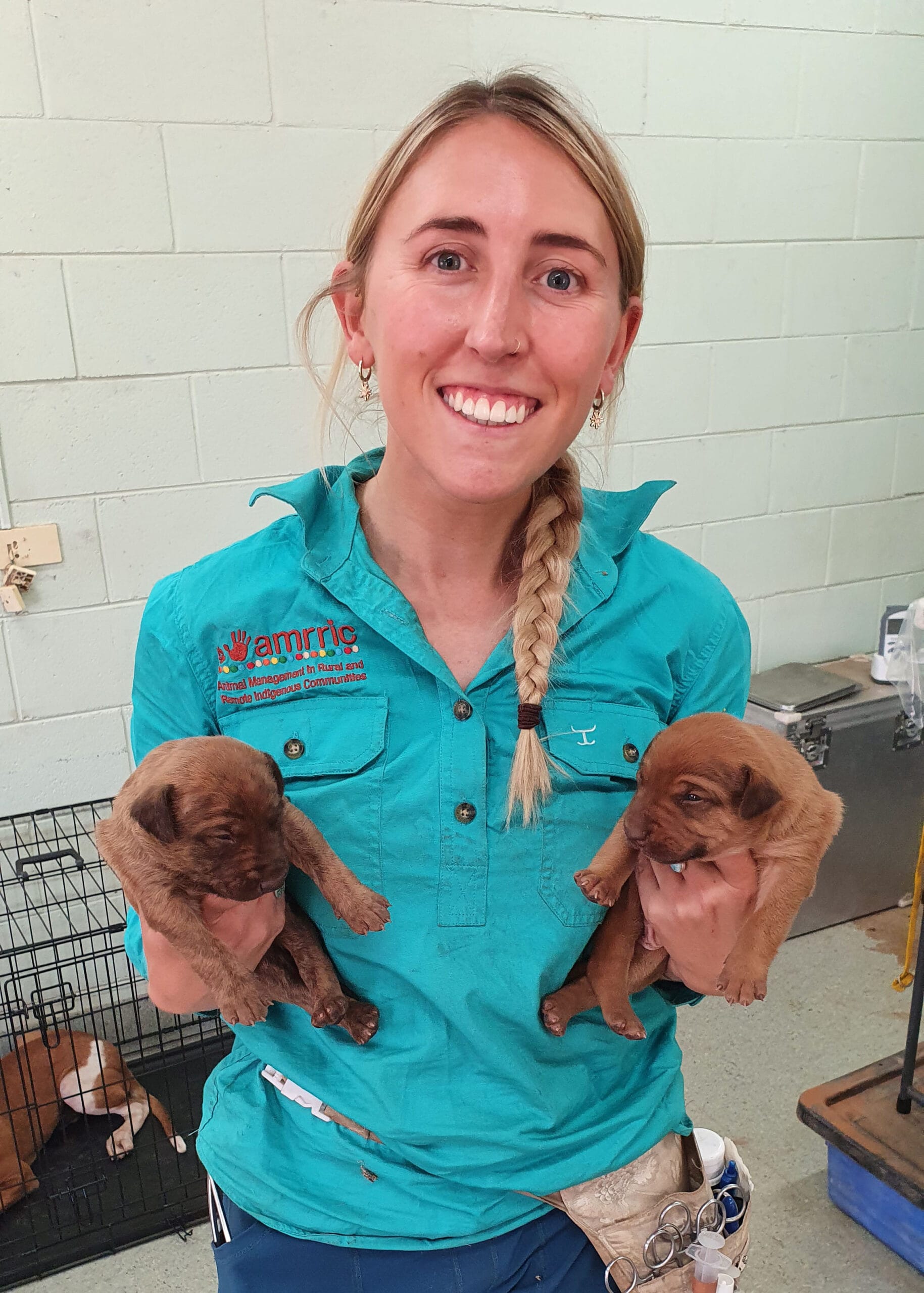 Lani Lawson
PROJECT OFFICER
Lani moved to the Northern Territory for an exciting opportunity with AMRRIC, an organisation close to her heart that she has always followed on socials and hoped she would be a part of in some capacity someday. She has a certificate IV in veterinary nursing and extensive experience working in veterinary hospitals for the past 10 years. She has always been an advocate for animal welfare and started her career working with RSPCA NSW where she attended community outreach programs held in remote indigenous communities in western NSW. She also worked in small animal emergency and critical care. On her first program here in the Northern Territory she describes the beauty in the vast landscapes and has absolutely fallen in love with this state. Lani enjoys the adventurous nature and challenges of remote field work. "There is something extremely special about working in remote communities and I continue to be amazed and intrigued by the interconnectedness and love shared between people and pets. Being in this unique position working on the ground directly delivering programs that improves the health and wellbeing of pets and their families is an incredible privilege."