Delivering Animal Health & Management Programs in Remote Indigenous Communities
An Environmental Health Practitioner's Guide
About this resource
This resource has been written as a reference guide for people wanting to make dogs and cats healthier in their own communities, or the communities they work in.
There are many people who take part in Environmental Health Programs in Aboriginal and Torres Strait Islander communities – Indigenous Environmental Health Workers, Animal Management Workers, Rangers, Local Governments, Aboriginal Corporations, Environmental Health Officers and state or territory Public Health Units to name a few. This resource aims to help each of those people to do a better job when it comes to delivering animal health and management programs.
Each chapter focuses on a different topic that is important to know about for animal health and management programs. You can choose to read all the chapters in order, or just read chapters you want to learn more about.  In addition to the online pages, at the end of each online chapter and the bottom of this page, you will find a link to a downloadable pdf version of the chapter.  If you don't always have good internet or would like to print out copies of each chapter, downloading the pdf versions might be a better option for you.
Acknowledgements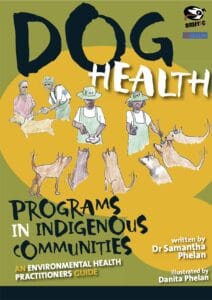 Delivering Animal Health & Management Programs in Remote Indigenous Communities – An Environmental Health Practitioner's Guide is the revised and regularly updated version of:
Dog Health Programs in Indigenous Communities – An Environmental Health Practitioner's Guide
– first published as a hard-copy manual in 2010 by AMRRIC (IBSN: 978 0 646 532417)
Authored by Dr Samantha Phelan, illustrated by Danita Phelan, designed by Karen Nettelfield, peer reviewed by  Geoff Borella, Dr Marie Montgomery-quin, Dr Stephen Cutter, Julia Hardaker, Dr Louise Brown, Dr Jan Allen and Dr Sophie Constable, edited by Dr Jenny Churchill and with production management by Niblock Publishing, the 2010 edition was produced by AMRRIC for the enHealth Working Group on Aboriginal and Torres Strait Islander Environmental Health, and funded by the Australian Government.
Prior to publication of the first edition of this resource, focus group meetings were held with both experienced Indigenous Environmental Health Practitioners working in the field in Queensland and the Northern Territory, and with Environmental Health Worker students from Batchelor Institute in the Northern Territory. To those people who participated in the focus groups, a sincere thank you. Your generosity and suggestions made the first edition book possible. With the publication of the 2nd edition now online, we hope the resource continues to help your work and does credit to your valuable input.
In 2018, AMRRIC received a grant from the Northern Territory Government – Animal Welfare Fund to revise the original manual and make its contents available online.
This online edition was revised by Dr Abby Masters, with peer review from Dr Madeleine Kelso, Dr Samatha Phelan, Eileen Fletcher as well as AMRRIC Staff Dr Bonny Cumming, Dr Jan Allen and Courtney Falls. Susanne Koen of Infoquest Pty Ltd provided literacy advice, Refuel Creative designed both the web and pdf version and the project was managed by AMRRIC Program Manager – Strategic Delivery Dr Bonny Cumming. Additional thanks go to Dr Ben Allen, Dr Bradley Smith and Will Dobbie for their comments on Chapter 10 – Dogs are not Dingoes.
AMRRIC is grateful to both the Australian Government and Northern Territory Government for their support of this work.
Copyright
Delivering Animal Health & Management Programs in Remote Indigenous Communities – an Environmental Health Practitioner's Guide 
© Animal Management in Rural and Remote Indigenous Communities (AMRRIC) 2019.
This work is copyright. Apart from any use permitted under the Copyright Act 1986 (Cth), no part may be reproduced by any process without prior written permission from AMRRIC.
Disclaimer
This resource has been prepared in good faith exercising due care and attention.  However, no representation or warranty, expressed or implied, is made as to the relevance, accuracy, completeness or fitness for purpose of this document in respect of any particular user's circumstances.  Users of this resource should satisfy themselves concerning its application to, and where necessary seek expert advice about, their situation.  AMRRIC and all those acknowledged as authors or contributors will not be liable to the user or any other person or entity with respect to liability, loss or damage caused or alleged to have been caused directly or indirectly by this publication.
The veterinary protocols, procedures and view outlined in this resource are intended to provide guidance only to Environmental Health Practitioners working with rural and remote Aboriginal and Torres Strait Islander communities in Australia, and should not necessarily be considered standard practice.
Download pdf versions of each chapter here: