Volunteer
Volunteering with AMRRIC is a unique opportunity to use your skills where there is great need, to truly benefit both animals and people. AMRRIC engages volunteers in order to increase our capacity to provide greater benefits to Aboriginal & Torres Strait Islander communities and their animals, promote reconciliation, and promote and raise awareness of our work.
Volunteer
Volunteering with AMRRIC is a unique opportunity to use your skills where there is great need, to truly benefit both animals and people. AMRRIC engages volunteers in order to increase our capacity to provide greater benefits to Aboriginal & Torres Strait Islander communities and their animals, promote reconciliation, and promote and raise awareness of our work.
AMRRIC is involved in a broad range of One Health-focused animal management activities – companion animal veterinary services, education and knowledge sharing, research, advocacy and more. There are often opportunities to assist our organisation in these areas and we are extremely grateful for the time and effort that our volunteers contribute.
There are many reasons to volunteer for AMRRIC: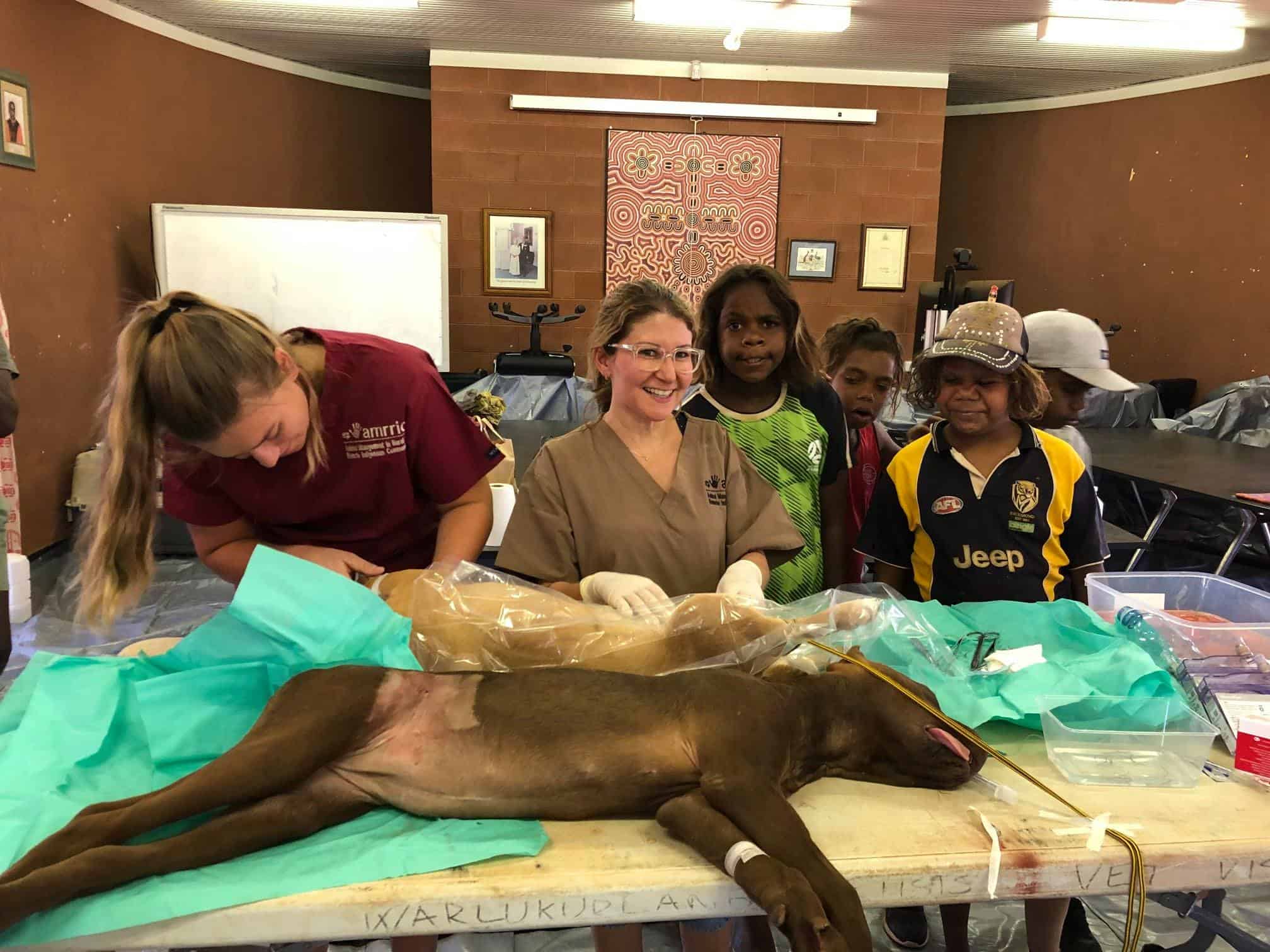 AMRRIC volunteers contribute to improving the health and well-being of companion animals in rural and remote Aboriginal and Torres Strait Islander communities, and in doing so, help to improve the health and well-being of communities as a whole.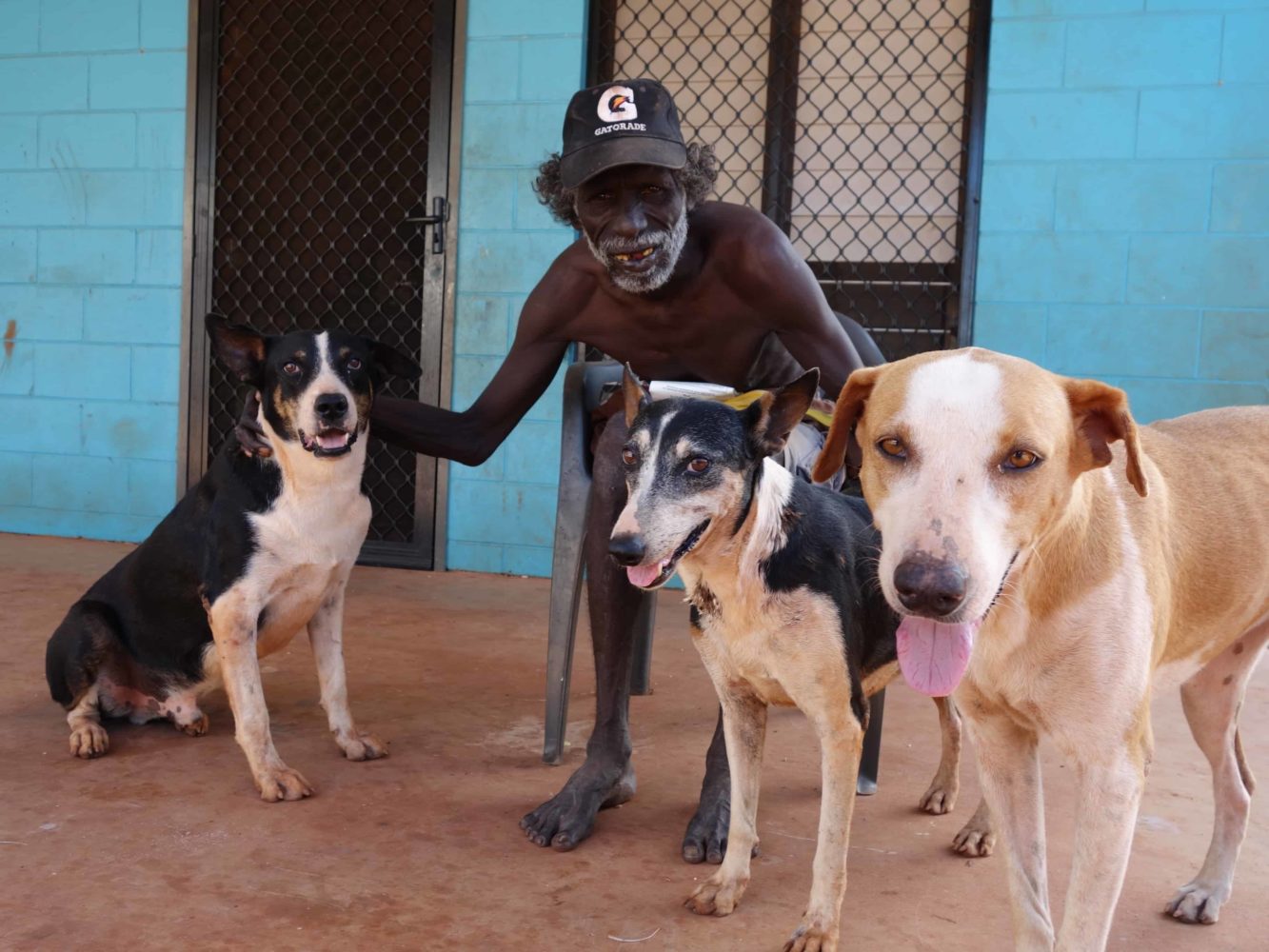 Volunteers gain an appreciation of Aboriginal and Torres Strait Islander cultures, and an understanding of the conditions experienced by our fellow Australians in rural and remote Indigenous communities.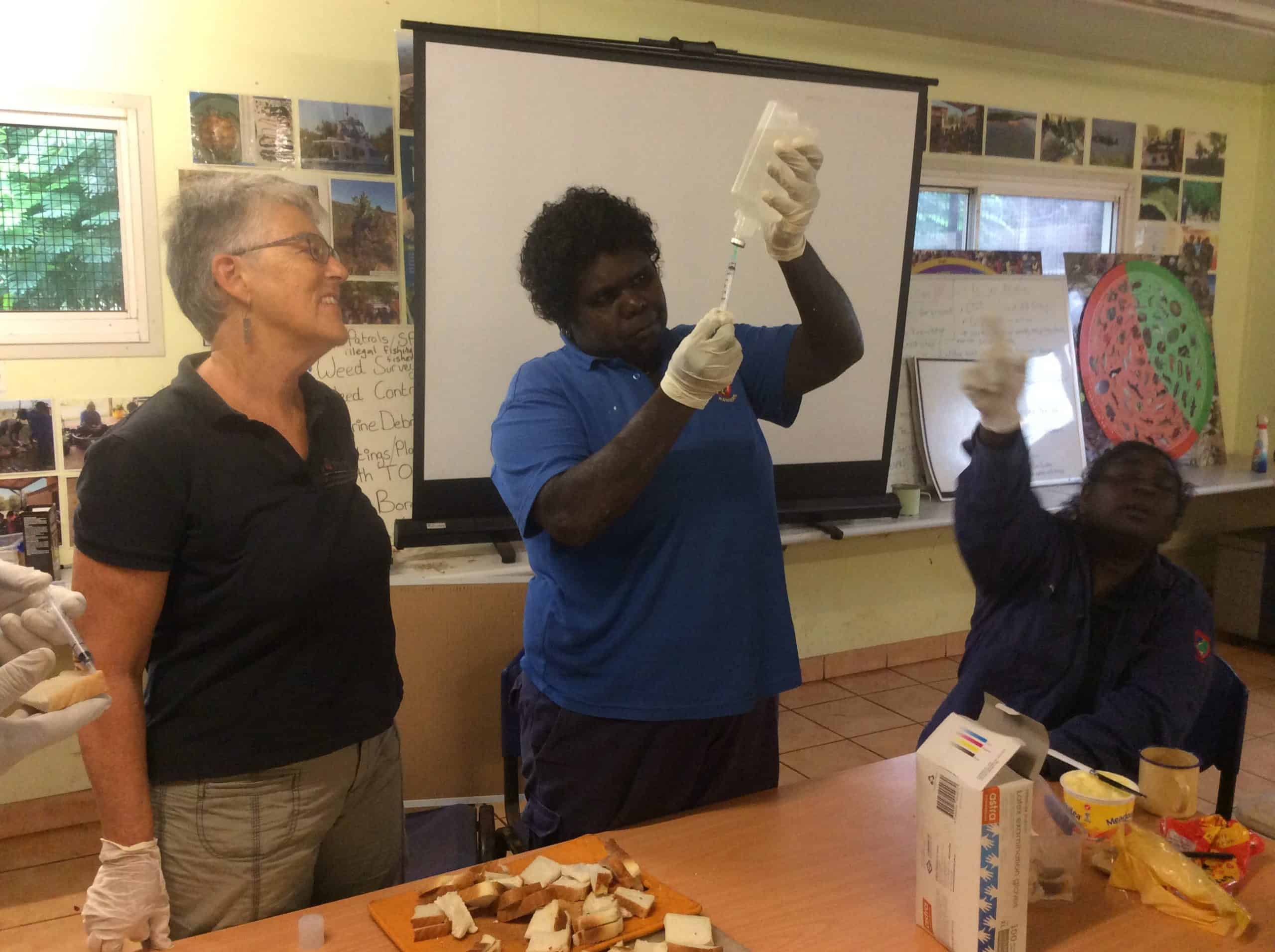 Acquiring new skills and experience, volunteers gain valuable career experience, as well as developing both personally and professionally.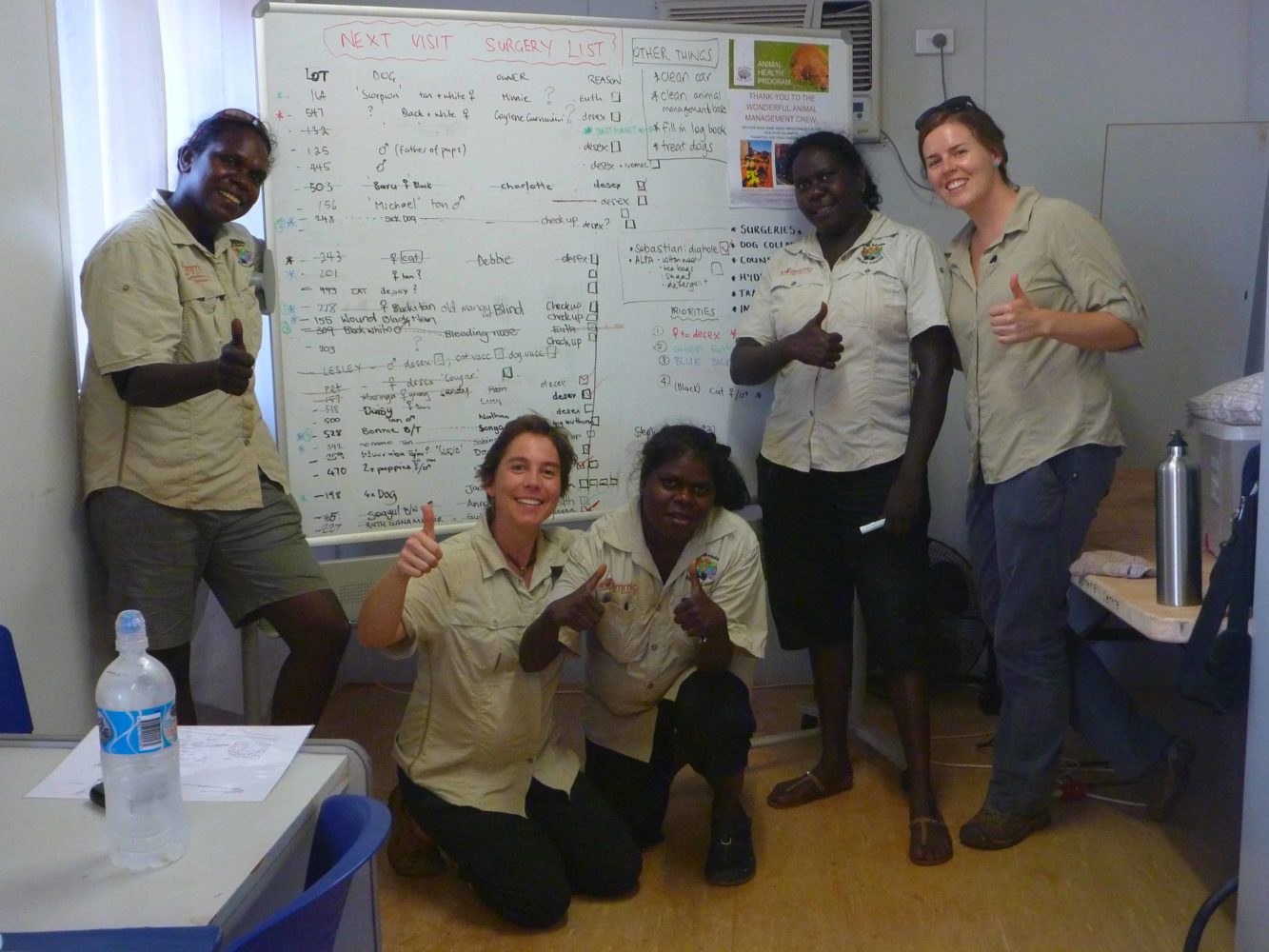 AMRRIC is a grass-roots organisation and volunteers gain the satisfaction of assisting programs that are requested by, and developed in consultation with communities.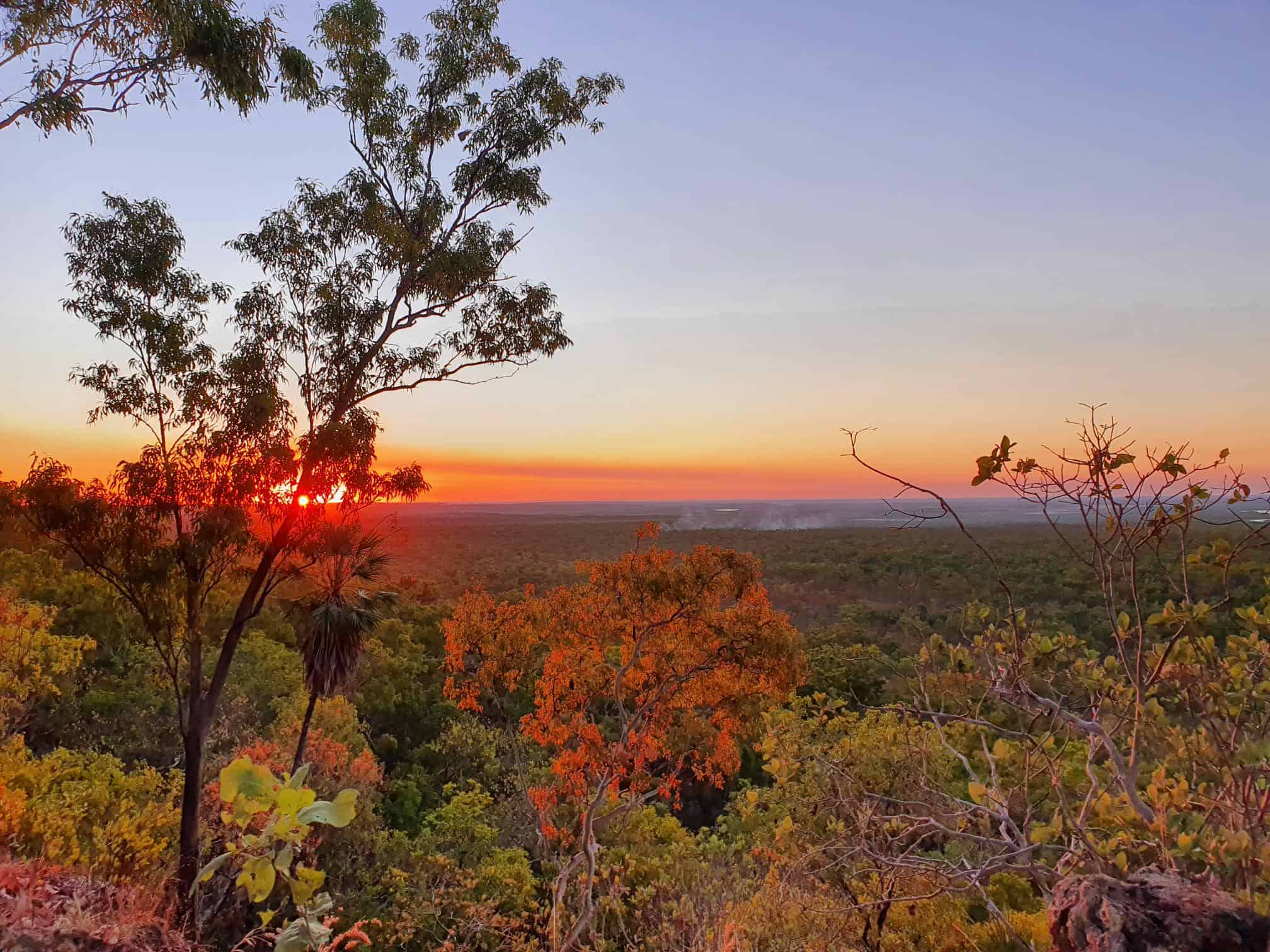 Veterinary program volunteers get the opportunity to travel to incredible locations that few people have the privilege to experience whilst meeting likeminded people and creating new professional networks.
Volunteer opportunities are only available to current financial members of AMRRIC. Beyond supporting AMRRIC's work, volunteers' membership fees contribute to staff time in processing volunteers, as well as ensuring that all volunteers abide by the
AMRRIC Member Code of Conduct
. You can apply for membership
here
. Please note that AMRRIC membership is not a guarantee that you will be able to volunteer for AMRRIC. To safeguard the communities and organisations that we work with, AMRRIC has strict policies for who we accept as volunteers.
If you would like to volunteer on a veterinary program please read the following FAQs. If you'd like to volunteer your skills outside of participation on a veterinary program, please get in touch with us to discuss the possibility of tailoring a role for your skillset.
Veterinary Program Volunteers
Each year a small number of veterinary volunteers (i.e. vets, vet nurses, vet students and data collectors) have the opportunity to assist in delivering veterinary services in Indigenous communities in some of the most remote areas of Australia. In these surroundings, the volunteer's experience is full of challenges – physical, mental and sometimes emotional – but the work provides a unique insight, and can bring great satisfaction.
Veterinary volunteers work within an AMRRIC affiliated veterinary program to deliver veterinary services to the companion animals of rural and remote Aboriginal and Torres Strait Islander communities. Key activities of AMRRIC affiliated veterinary programs include:
Companion animal population control through surgical and chemical desexing procedures;
Parasite treatments to both improve animal health and reduce potential zoonotic disease transmission;
Community education designed to inform local communities about the importance and integrated nature of animal, environmental and human health;
The collection of animal population and treatment data.
All of AMRRIC's work is based on central philosophies that determine the way it engages with communities as well as the standards of services it provides. Information on AMRRIC's philosophies can be found here.
How do I become an AMRRIC veterinary volunteer?
AMRRIC's veterinary volunteer recruitment process is designed to ensure that volunteers with the right skills, experience and attitudes are suitably prepared for their role.
For volunteers wishing to participate on a veterinary program (i.e. veterinary volunteers), please read the following FAQs and some of our returned volunteers' stories before completing our Veterinary Volunteer Application Form. Once your application has been approved you will go on the mailing list to receive notice of upcoming veterinary volunteer opportunities; it is then up to you to contact AMRRIC's volunteer coordinator to express your interest in a particular advertised opportunity.
Once you have registered your interest in an advertised opportunity, we may ask you to have two referees complete an online reference form. We may also arrange a time to speak with you about your interest in volunteering. Once this credentialing is completed, we typically work with the principal vet for the program to select the most appropriate candidate/s.
In most cases, following acceptance to participate on a program, you will be asked to complete background reading, undertake your own research about the history of the community/communities you'll be visiting, and sign various AMRRIC agreements. You will also be responsible for arranging your own travel to the nominated meeting point for the program, as well as any professional requirements (e.g. veterinary board registration).
Do I need a Working With Children Clearance
In accordance with AMRRIC's commitment to the safety and protection of children, and in line with our NT funding agreement, we require that all staff and volunteers attending programs within the Northern Territory possess a current NT Working With Children Clearance (WWCC). NT WWCC typically take 2-6 weeks to process. As many of AMRRIC's volunteer opportunities are only able to be advertised with short notice (some only a few weeks), if you are considering applying to volunteer with AMRRIC in the Northern Territory within the next two years, it will be advantageous to your selection if you have already obtained an NT WWCC. To be eligible to get an NT WWCC at the discounted volunteer fee of $5, you must submit a signed form from AMRRIC with your application. Please contact volunteering@amrric.org to request this form for your application. Please note that NT WWCC requires renewal every two years.
For volunteer opportunities in all other states, in most instances a Working With Children Clearance is not necessary, as AMRRIC volunteers usually do not meet the eligibility requirements. You will be advised if a Working With Children Clearance is required for any program in states other than the NT.
Am I covered by AMRRIC's insurance?
AMRRIC has an insurance policy specifically for volunteers, however our insurance is limited:
Limited Personal Accident – the amounts of insurance are only supplementary amounts and a long distance from covering e.g. a vet's loss of income.
Public Liability – but NOT for professional malpractice, i.e. NOT covering veterinary acts.
Where possible, professionals are best covered by their own work insurance for a more comprehensive and satisfactory insurance. Students are best covered by the insurance of their university.
Who will I work with?
AMRRIC facilitated veterinary volunteer opportunities occur on veterinary programs that are variable in their structure. In many instances, AMRRIC facilitates a partnership with an AMRRIC-member principal vet who is contracted by a local Regional Council or Aboriginal Corporation to deliver regular veterinary services to the communities in their region. This veterinarian is an AMRRIC member who will have had many years' experience in remote community work, abides by AMRRIC's policies and guidelines, and will have an established relationship with that community. AMRRIC volunteers will work under the guidance and supervision of that veterinarian. In some instances, AMRRIC staff may work with the principal vet or, at the request of a community in need, AMRRIC staff may themselves deliver the veterinary services. In these instances, an AMRRIC staff member who is also a veterinarian experienced in remote community veterinary service provision will fill the role of principal vet and veterinary volunteer supervisor. The structure of each particular program will be communicated to the volunteer(s) prior to departure.
Other vet, vet nurse, vet student or data collector volunteers may also be present on the program, however veterinary program teams are typically no larger than 6 people.
What does a veterinary volunteer do on an AMRRIC affiliated veterinary program?
The roles and responsibilities of veterinary volunteers vary considerably depending on the program priorities, the experience and skill set of the volunteer and the other team members involved in the program. In general, volunteers who are experienced veterinarians can expect to perform anaesthetics, castrations and speys under the guidance of the principal veterinarian; vet nurses can expect to prepare patients, assist vets with surgeries, monitor anaesthetics and recoveries; data collectors will be expected to keep accurate records of program activities (e.g. undertaking a companion animal census, recording animal treatment data etc.), using provided data collection tools. All team members are expected to contribute to setting up and cleaning up each day, as well as taking turns to cook meals in shared accommodation. Due to the unpredictable nature of many tasks associated with remote veterinary programs, AMRRIC seeks proactive volunteers with a 'can do' attitude.
Veterinarians; please note that on remote community programs, flank speys are often preferentially performed over mid-line speys. While each surgical approach is determined by clinical judgement on a case by case basis, flank speys often pose lower risk of post-surgical complication in remote community contexts. AMRRIC and our partner veterinarians understand that many vets have limited experience performing flank speys. If you are interested in volunteering with AMRRIC but have concerns about the prospect of performing flank speys, please get in contact with us to discuss your trepidations. Concerns about performing flank speys needn't deter you from volunteering; AMRRIC staff and our partner veterinarians are more than willing to support and mentor volunteers to use surgical approaches that they are comfortable with, and competent in performing.
Where do AMRRIC volunteer opportunities occur?
Volunteer opportunities occur in rural and remote Indigenous communities throughout Australia, however many are located in the Northern Territory or Western Australia. Locations are typically very remote – communities of the Central Desert Region, the communities of the Tiwi Islands or communities of the Pilbara and West Kimberly Region in Western Australia.
Almost all of AMRRIC's volunteer opportunities occur in remote locations requiring many hours travel by unsealed road or small plane. There may be no mobile reception and volunteers unfamiliar with Indigenous communities can feel very isolated and sometimes experience 'culture shock'. Prior to application, it is important to consider the context in which AMRRIC volunteers work, and decide whether or not volunteering on a remote veterinary program is for you.
What is the vet suite like?
In remote communities, access to suitable temporary veterinary facilities within the community is often very limited and in most cases, the principal vet will be required to travel with all furniture, equipment and consumables required for the program. With high levels of overcrowding in many communities, the use of spare buildings or rooms by the veterinary team may not be possible. The vet suite is usually established in an accessible position to the community. This may be under a verandah, under a tree, or where possible, in an empty house or building. Whilst the environmental conditions associated with these locations can sometimes be physically challenging for the team, an open-access vet suite has the benefit of engendering a climate of trust and openness with the community. Pet owners and community members are encouraged to actively participate in and witness the delivery of treatments and surgical procedures to pets. AMRRIC believes that this style of engagement promotes knowledge sharing and capacity building. Despite the limitations of such locations, AMRRIC affiliated veterinarians always deliver veterinarian services to the highest possible standards, and take measures to ensure their operating conditions are safe and appropriate for their patients, the team and the community.
What sort of cultural and contextual considerations do I need to bear in mind?
In most remote communities, community members speak English as a second, third, fourth, etc. language. Because of this, English language skills are often limited and communication can be very challenging. In addition to this, there are also cultural considerations beyond most 'white-fella' understanding, which influence communication and participation in programs. Volunteers must take these considerations into account when working in Indigenous communities, and should seek advice from the principal vet regarding appropriate engagement with community members.
For those unfamiliar with remote Indigenous communities, travelling to and staying in such communities can be a very confronting experience. The cultural differences between Indigenous communities and mainstream Australia are vast; remote Indigenous communities are often compared to developing countries due to their relative poverty and associated living conditions. Witnessing these conditions and the extent of human and animal health disparities can significantly impact on visitors' mental health. Whilst experiencing such conditions is very different from reading about them, it is essential that prospective AMRRIC volunteers do as much as possible to prepare themselves. It is therefore critical that prospective volunteers complete all of the recommended reading in the induction material, as well doing their own research to gain a better understanding of the cultural and socio-economic realities that they may face whilst volunteering.
More information regarding cultural and contextual considerations can be found in AMRRIC's Cultural Orientation Handbook.
What is the accommodation and food like?
Accommodation in communities is of variable standards and often very limited. Accommodation for the veterinary program team is almost always provided but can be anything from bring your own swag and sleep on the crèche floor to dongas to mud brick hotel rooms. Meals are usually shared with team members taking it in turn to cook. Volunteers are required to share in the grocery costs for the period of the program. Common dietary requirements can be accommodated however volunteers with unusual dietary requirements should consider bringing food/ingredients with them. Specific information about accommodation and particular requirements of that program will be communicated to volunteers at induction.
Are there any health requirements I must meet to be eligible to participate as a volunteer?
All AMRRIC veterinary volunteers will be likely to be working in challenging environmental conditions (e.g. extreme heat and/or humidity). It is therefore necessary that all volunteers have a basic degree of physical fitness and not have any health conditions that may adversely affect their experience and/or performance. Whilst it is not a requirement for volunteers to obtain a health check, any medical conditions must be disclosed in the application process. Where AMRRIC staff are concerned that a disclosed condition may influence a volunteer's suitability, a recommendation from the volunteer's GP may be requested.
An up-to-date Tetanus vaccination status is essential due to the remote nature and risk involved in handling animals. Volunteer applicants are recommended to have had a Q fever vaccination and should seek guidance from their GP regarding the need for booster Tetanus vaccinations and other vaccinations.
What is the frequency and duration of volunteer opportunities?
The availability and frequency of volunteer opportunities on veterinary programs is controlled by many factors, including the availability of transport and accommodation within the community, the principal veterinarian's need for assistance, the attitude and history of the community, weather, access, ceremonies, etc. Even a well-planned program can be cancelled at the last minute because of sorry business – a death in the community. Access to many communities is limited to the Top End's dry season (April – October) as flooding during the wet season isolates many remote areas, preventing safe and reliable transport. Due to all of these factors, volunteer opportunities are often erratic and can be at short notice. Planning ahead to fit into student schedules is not often possible.
Veterinary program suitable for volunteers are usually 4-5 days in duration, plus travel time, but can vary from 3 -10 working days.
What is the cost of volunteering?
AMRRIC volunteers pay for their own transport to the nominated meeting point (often Alice Springs, Darwin or Port Hedland) and share in the grocery costs for the period. Accommodation in the community is usually provided but can be very basic.
Other costs to factor in include:
NT Working With Children Clearance application fee ($5 as of Jun 2017) if volunteering on a program within the NT.
Any fees associated with veterinary registration in the state or territory of the program. (While the application fees for veterinary volunteers are usually waived, some boards require a letter of good standing from the veterinarian's existing veterinary board. If a letter of good standing is required, the fee for the production of this document is payable by the volunteer.)
All other expenses associated with volunteering is at the volunteer's own expense.
Does AMRRIC take student vet and vet nurses as volunteers on One Health Programs?
For vet students:
AMRRIC does take student vets at the discretion of the principal veterinarian and in accordance with the state or territory veterinary board and the university in question.
For veterinary volunteer opportunities, AMRRIC only takes veterinary students who are in their clinical years of study and have participated in practical surgical training through their university. It should be noted that despite the experience of the supervising principal vet, AMRRIC volunteer opportunities are not designed or intended as veterinary training opportunities. Veterinary student volunteers must understand that the decision regarding whether or not they will be permitted to perform supervised surgeries is entirely at the discretion of the principal vet. If the principal vet is not confident in the veterinary student's abilities, they will not be permitted to perform surgeries for the duration of the program, and will instead be asked to act in the role of assistant.
Veterinary students (of all years) with vet nursing experience may apply for vet nurse volunteer opportunities. Veterinary students (of all years) without vet nursing experience may apply for data collector volunteer opportunities. Please note that vet students acting as nurses or data collectors will not be permitted to perform surgeries.
As mentioned previously, volunteer opportunities are erratic and can be at short notice, so planning ahead to fit into student schedules is not often possible.
For vet nurse students:
On most occasions, due to the limited availability of transport and accommodation, and need to maximise on-the-ground capacity, AMRRIC does not take inexperienced vet nurses in vet nurse volunteer roles. AMRRIC vet nurse volunteers must have a minimum of 6 months experience working as a veterinary nurse in a clinical setting, as well as basic veterinary nursing skills (e.g. anaesthetic monitoring and surgical assistance) and a basic understanding of animal behaviour. Vet nurse students without clinical vet nursing experience may however apply for data collector volunteer opportunities.
Are there volunteer opportunities for people who are not veterinarians or vet nurses?
Due to the limited availability of accommodation and transport for volunteers assisting with veterinary programs, there is seldom room for those who are unable to contribute their professional veterinary skills to the program. However, in some circumstances there may be opportunities for a data collector to join the team. Data collectors need not be veterinarians or vet nurses, but a basic understanding of animal behaviour is still essential. Data collectors will work with the veterinary team to collect and record animal population and treatment data collected throughout the program. Data collection tools (e.g. the AMRRIC App) will be provided for use by the data collector.
What makes a successful veterinary volunteer?
Being a successful AMRRIC veterinary volunteer requires more than professional skills and experience. The communities where AMRRIC works are often in the most remote areas of Australia with very different socio-economic, climatic and cultural conditions, and very limited facilities for the likes of veterinary programs. Because of these factors, AMRRIC seeks volunteers who have:
Cultural sensitivity and respect;
Flexibility, adaptability and a willingness to cope with different environments;
Patience, professionalism and enthusiasm;
The ability to work under difficult conditions – flies, dust, heat – and often with an audience of community members;
Self-motivation and the ability to work co-operatively as part of a diverse team;
A basic understanding of dog behaviour and skills to recognize and avoid potentially dangerous situations;
For vets, sound surgical skills with experience performing flank speys desirable (but not essential);
Experience in community development programs in remote communities or international context;
Experience in Indigenous communities.