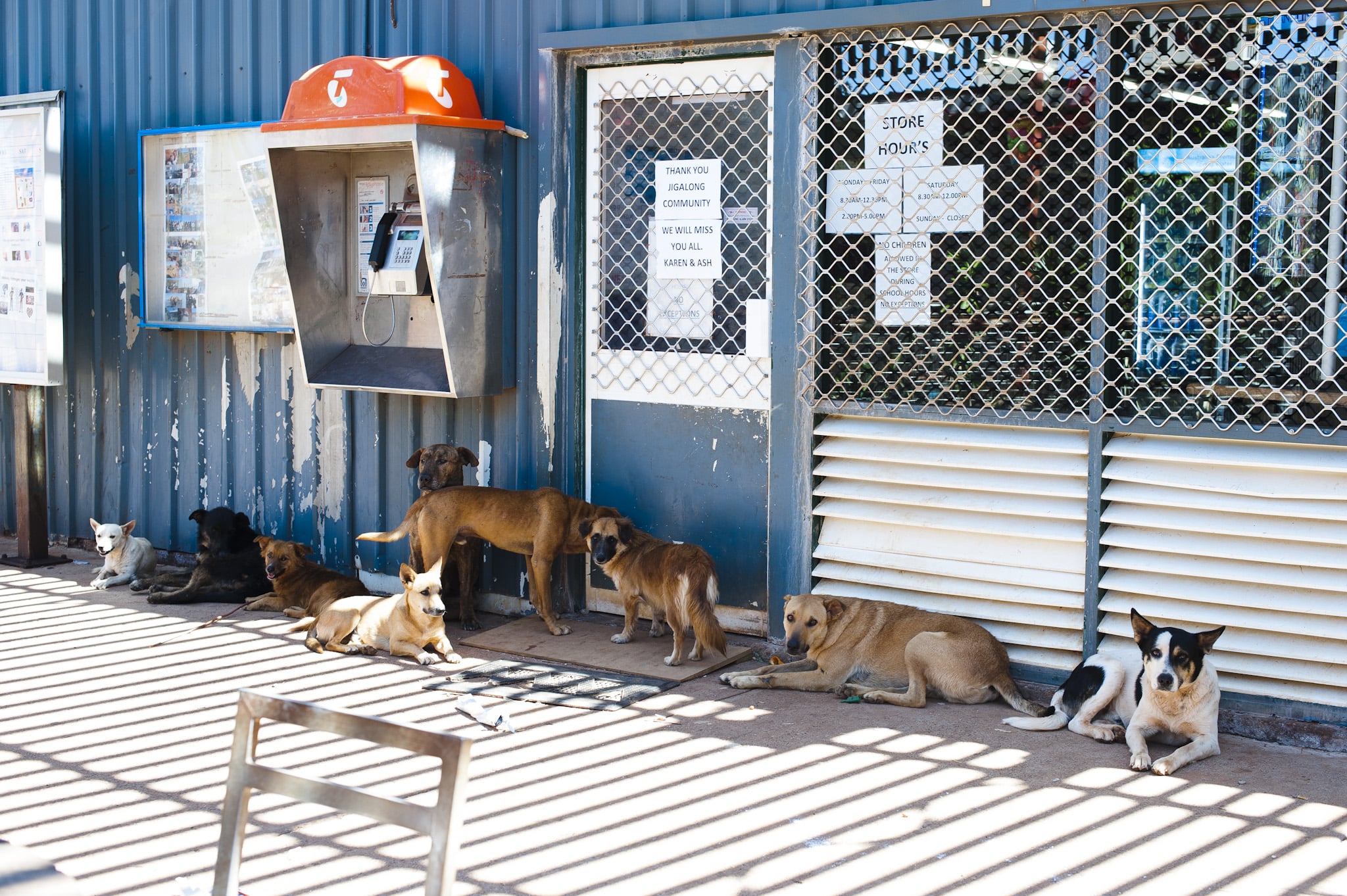 Image: A group of dogs awaiting their owners outside a remote store in WA.
AMRRIC continues to work hard to highlight the vital importance of ensuring sustainable and affordable access to animal health products like flea, tick, mite and de-worming treatments for the health of remote First Nations communities. Geographic isolation and remote logistics, compounded by wet season access restrictions frequently result in a high cost of living expenses and limited access to services​. Where available, this can increase the price of animal health products, such as food and antiparasitics, thus presenting a financial barrier for community residents. In some locations stores have either inadequate or no animal health product options​ at all. 
Recognising these gaps, AMRRIC has worked with our corporate partners to secure discounts on antiparasitic products. Through kindly donated funds, the cost of these products can be further subsidised. Together, this means that remote stores can financially justify stocking these products, and community members are able to readily access these important antiparasitic products at a reasonable price. AMRRIC supply products always with the agreement that these discounted prices will be passed along by stores to the customers. 
AMRRIC currently work alongside two large retail groups and a number of independent stores to stock their remote sites with affordable and appropriate antiparasitic products for purchase by community members. In addition to this, through the support and tailored antiparasitic advice we provide to government departments, local government associations, aboriginal organisations, veterinary partners, and other organisations involved in remote animal health programs, we now regularly supply to 11 groups working in the NT, QLD and WA. 
Over the past year alone this has facilitated access to almost 11,000 doses of essential antiparasitic products, available for purchase in local stores and through distribution by local stakeholders in remote communities. It is our hope to continue to develop and grow this work and support the sustainability of animal and community health and wellbeing in remote regions.​ 
This work would not be possible without AMRRIC's support from the Australian Government, National Indigenous Australian's Agency, as well as our corporate and community based partners.
For more information about AMMRIC's work to ensure equitable access to animal health essentials in remote First Nation communities please don't hesitate to contact our team at [email protected]