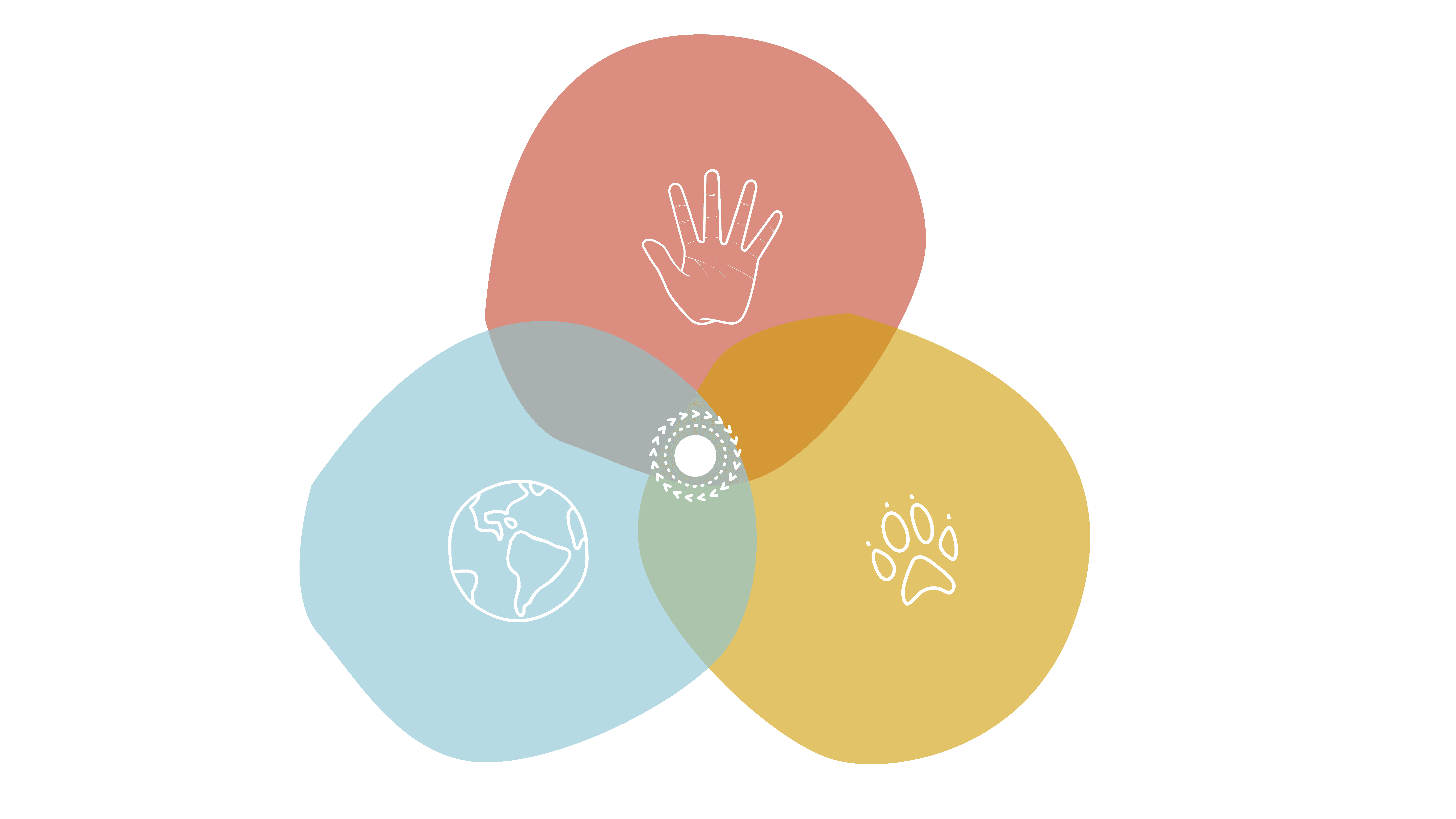 Image: One Health is an approach that recognizes the interlinkages between human, animal and environmental health and wellbeing
Like Aboriginal and Torres Strait Islander peoples, AMRRIC considers health to be "more than just the absence of disease or illness; health is a holistic concept that includes physical, social, emotional, cultural, spiritual and ecological wellbeing, for both the individual and the community*. This holistic and multisectoral view of health aligns to the 'One Health' concept**. 
Recognising the interconnectedness of animal, human and environmental health is the foundation of AMRRIC's One Health One Wellbeing approach which aims to enhance community health and wellbeing by implementing best practice programs that improve companion animal health and welfare.   
Despite increasing global awareness of One Health linkages, the published evidence base for One Health related impacts within remote Aboriginal and Torres Strait Islander communities remains extremely limited. Over the last two decades, through grass-roots conversation and observation, AMRRIC and our community and veterinary partners have amassed a wealth of anecdotal experience of the impacts of companion animal health on community and ecosystem health. From this experience we know that companion animals are highly valued in communities for a variety of reasons including companionship, hunting and protection.  We know that for many communities, companion animals can be culturally significant, even incorporated into kinship systems. However, we also know that the poor health and welfare of companion animals can lead to shame, anguish, frustration and fear for residents.  We know that without effective animal health programs, companion animals can carry a range of pathogens that are zoonotic (i.e. can transmit from animals to people). We know pet dogs can hybridise with dingo populations and that cats are becoming increasingly popular pets in many remote communities, but that both are seldomly contained and often wander.  While we know all this from experience, very little of this knowledge has been documented and published, and thus this knowledge gained through collective experience is not contributing to policy and resource decisions. In remote communities, often located in highly biodiverse regions, yet where geography and the social determinants of health contribute to significant human physical and mental health burdens, an improved understanding of both the beneficial and detrimental health impacts of companion animals is essential.  
AMRRIC's strong relationships with remote Aboriginal and Torres Strait Islander communities nationally and an extensive research network mean we are in a unique position to be able to work in partnership with communities, identifying their One Health research needs and linking them to researchers who can assist them to answer their questions via culturally and contextually appropriate projects.  This in turn will help to fill knowledge gaps and ensure the voices of Aboriginal and Torres Strait Islander peoples are amplified in informing evidence-based policy decisions. 
AMRRIC is thrilled to announce that is has secured philanthropic funding for 3 years, to employ a dedicated One Health Research Officer who, together with AMRRIC's Program Manager – Strategic Delivery, will coordinate efforts to build the One Health evidence-base in partnership with remote communities and researchers. By supporting research projects that address community identified priorities, that build local capacity, and that utilise culturally and contextually appropriate research practices, beneficiaries of this project include both communities themselves and researchers. AMRRIC anticipates that outputs of the collaborative research will fill knowledge gaps and could be used to inform public policy and direct resourcing to areas of most need.  
* https://www.aihw.gov.au/reports/australias-health/indigenous-health-and-wellbeing  
** https://www.oie.int/en/what-we-do/global-initiatives/one-health/