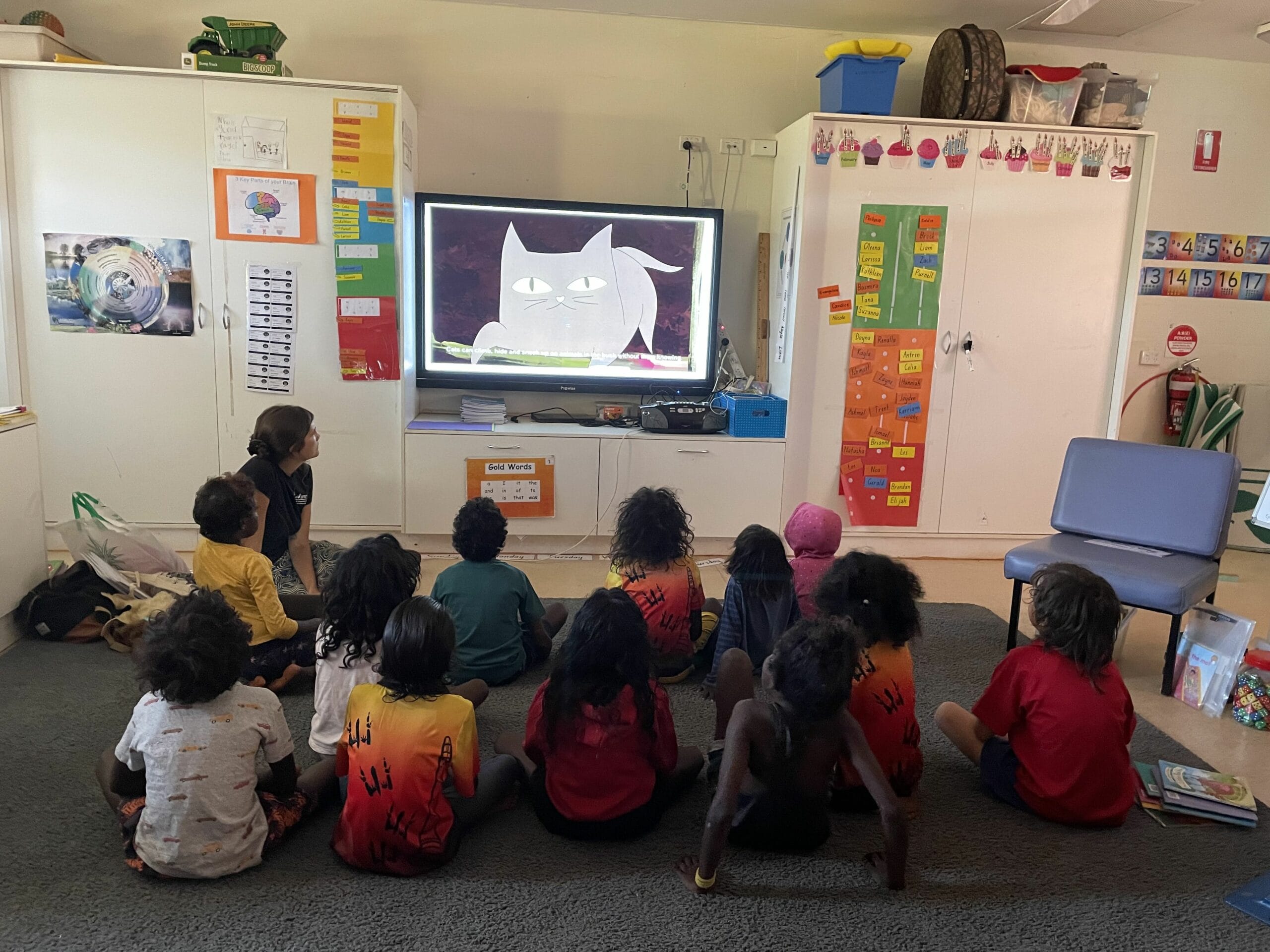 Image: AMRRIC Education officer Michelle Hayes leading an education session at Ramingining School, 15/09/21
During September and November 2021, AMRRIC were thrilled to be able to collaborate with East Arnhem Regional Council (EARC) and Territory Natural Resources Management (TNRM) to deliver a 'Cats in Communities' education program across East Arnhem's remote communities.  
Cats in communities are elusive in nature, can be difficult to handle, are rarely confined by their owners, and are prolific breeders. These factors facilitate mean that cat populations in remote communities tocan become out of control relatively quickly. Cats are also highly skilled, nightly hunters. Feral and owned free-roaming cats have a significant impact on Australia's unique environment, native animals, and remote communities. Given the importance of East Arnhem's biodiversity and the growing popularity of cats as companion animals in communities, the focus of this education program was centred on the sustainable management of their growing population and their associated behaviours.  
Targeted at both primary and secondary students, the program introduced the importance of cat management in remote communities and how science (surgical sterilisation), technology (data recording, animal tracking etc.), and Indigenous science (local knowledge) are integral to this management. The education program sought to educate students on the devastating effects cats can have on native animal populations, as well as and their breeding potential. This knowledge was then used to encourage the desexing and containment of cats inside at night-time, to limit their hunting potential and prevent cat overpopulation. An education session with the Anindilyakwa Land Council Rangers was also held during the program, allowing further engagement with the community. 
AMRRIC and EARC were able to deliver the education program to 4 schools on the mainland, and across all remote schools on Groote Eylandt and Bickerton Island. Territory Natural Resources Management (TNRM) collaborated for the program while visiting the Groote Eylandt community schools, providing further insight into the conservation work and importance of this island's ecosystem, and the impact that a growing population of cats can have on this system. 
The program was a great success, with students very receptive and engaged in the education material. The community BBQs held after each session provided further opportunities for a fun and informal way to engage with even more community members.  
AMRRIC would like to thank Inspired NT, supported by Charles Darwin University, for awarding the targeted science communication grant that allowed the delivery of this program. AMRRIC would also like to thank EARC, TNRM, NIAA, and the communities and traditional owners of the lands visited for their support in carrying out this program.