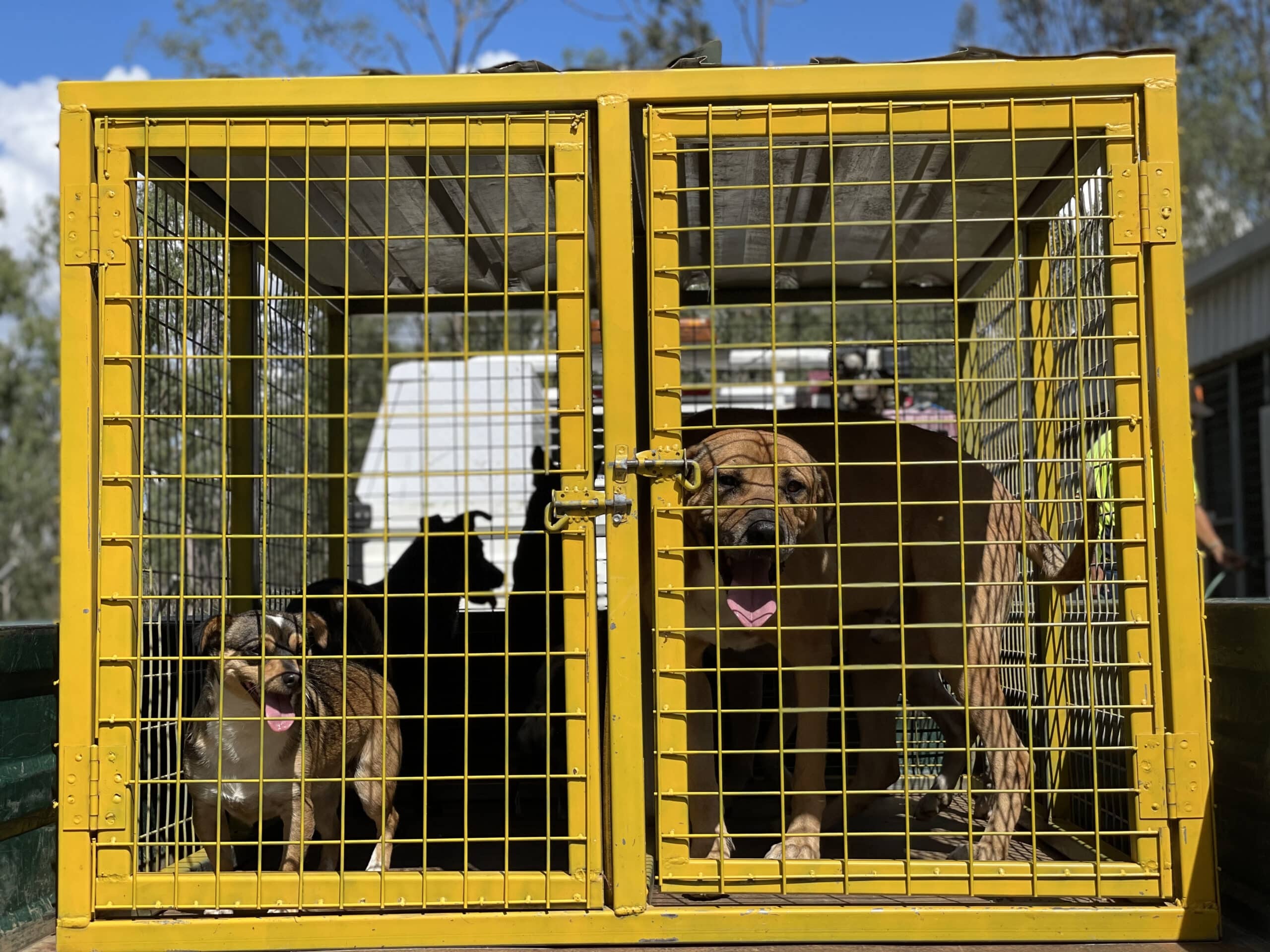 Image: Some happy and healthy patients, returning to see the vet team for their annual health check
Since 2016, AMRRIC have partnered with Cherbourg Aboriginal Shire Council, The University of Queensland School of Veterinary Science and Darling Downs Public Health Unit to deliver an annual veterinary visit for Cherbourg – an Aboriginal community approximately 3 hours northwest of Brisbane, on the land of the Wakka Wakka peoples. 
Unfortunately, uncertainty around the COVID pandemic meant that UQ were not able to deliver the veterinary service in 2020, which was instead delivered by a team of AMRRIC veterinary partners and volunteers. So following extensive planning, the UQ team were particularly excited to be able to return to the community this year. The UQ team included 5 final year veterinary students as well as Vet School staff and supporters. AMRRIC Program Manager – Strategic Delivery, Dr Bonny Cumming, provided project management support, assisting the collective UQ and Cherbourg Aboriginal Shire Council team with recruitment, scheduling and capture of patients, as well as data capture through the AMRRIC App. 
With the community having experienced a consistent, annual program for the last 6 years, the team were thrilled to welcome many familiar faces – of the human and animal variety – back to the field clinic!  
With the funding from Cherbourg Aboriginal Shire Council, as well as continued generous support from Boehringer Ingelheim Animal Health, plus new program supporters Royal Canin and a private UQ donor, the team were able to desex, microchip and vaccinate 59 animals, as well distributing over 360 doses of NexGard, HeartGard, ParaGard and Frontline Plus for Cats. At the request of their owners, and with the support of RSPCA QLD, 22 animals were also rehomed. Additional doses of anti-parasitic medications, generously provided by Boehringer Ingelheim, will be distributed to the community's animals by Cherbourg Aboriginal Shire Council's Animal Management staff, extending the benefits beyond the program itself.  
Over the 6 years of veterinary service delivery at Cherbourg, 323 dogs and 44 cats have been desexed, preventing the birth of literally thousands of unwanted puppies and kittens, and improving the health of both the animals and the community. The yet-again fully-booked clinic, as well as positive community feedback are wonderful indicators of the program's sustained success. 
Having now completed its 6th year, the Cherbourg veterinary program is a great example how sustained and genuine grass-roots collaboration and partnership can result in a raft of benefits for all involved. We are so grateful to be able to work in partnership with all of the stakeholders involved with wonderful program, and thank both the Australian Government – National Indigenous Australians Agency, and Cherbourg Aboriginal Shire Council for their contributions toward supporting our staff time on this project.